Laura Cho-Stutler, Psy.D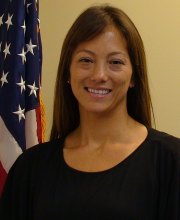 EBP Champion - Consultant, Uniformed Services University of the Health Sciences (USU)
Laura Cho-Stutler, Psy.D
Laura Cho-Stutler, Psy.D. . is a clinical psychologist and a Cognitive Behavioral Therapy Trainer with the Center for Deployment Psychology (CDP) at the Uniformed Services University of the Health Sciences in Bethesda, Maryland. Located in Hawaii, Dr. Cho-Stutler advocates for evidence-based mental health treatment utilization and develops toolkits designed to expand access to and availability of evidence-based psychotherapies. She provides consultation and training to clinical leadership and staff in support of evidence-based practices and identifies best practices.
Before this current position with the CDP, clinical psychologist for Tele-behavioral Health Psychology Surge Support at Tripler Army Medical Center (TAMC) where she delivered assessment and psychotherapy for Service Members and their family members. She previously held a position with the CDP as the Deployment Behavioral Health Psychologist at TAMC as a subject matter expert, consultant, faculty member and assistant training director to an APA-approved pre-doctoral psychology internship program. Dr. Cho-Stutler also operated a private practice and was a behavior health consultant for a primary care clinic, Patient Centered Medical Home at Schofield.
Dr. Cho-Stutler earned a master's and doctorate degree in clinical psychology from Argosy University/Honolulu. She completed a clinical psychology internship at the Portland VA Medical Center. She also finished a post-doctoral fellowship in health psychology at a rural health center. Her professional interests include the treatment of trauma-related mental health conditions, mindfulness, and provider self-care.