Matthew Sacks, Ph.D.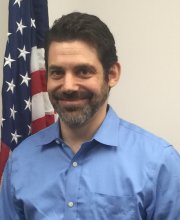 Assistant Director, Strategic Growth
Matthew Sacks, Ph.D.
Matthew Sacks, Ph.D., joined the Center for Deployment Psychology in 2015 as a Deployment Behavioral Health Psychologist at Malcolm Grow Medical Clinic, Joint Base Andrews. Prior to joining the CDP, Dr. Sacks worked at the Washington D.C. VA Medical Center Mental Health Clinic and in Compensation and Pension Evaluations, as well as previously working as a Staff Psychologist at Joint Base Andrews.
Dr. Sacks received his bachelor's degree from Emory University and his master's and doctorate degrees in clinical psychology from the University of North Carolina-Chapel Hill. He is a 2006 graduate of the Palo Alto VA Medical Center Internship Program, and worked as a Post-Doctoral Fellow at the San Francisco VA Medical Center. He served as the Chair of the Department of Psychology at Touro College South from 2008-2011.
His professional interests include military psychology, the assessment and treatment of anxiety and depression, mindfulness, resiliency and performance enhancement.