Rabia Mir, M.P.H.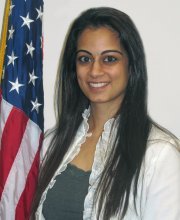 Dissemination and Implementation Sciences Subject Matter Expert
Rabia Mir, M.P.H.
Rabia H. Mir, M.P.H. is a subject matter expert in dissemination and implementation sciences for the Center for Deployment Psychology at the Uniformed Services University of the Health Sciences (USUHS) in Bethesda, Maryland.  She is responsible for broadening dissemination and promoting sustainability of evidence-based psychotherapies.
Ms. Mir earned her Bachelor of Science degree in public health and a Master of Public Health degree in health communication and social marketing from the George Washington University.  Prior to joining CDP, she worked on psychological health and traumatic brain injury education with the Defense Centers of Excellence.  She also has worked on underage alcohol prevention programs with the Department of Health and Human Services, and on employee wellness programs with the National Institutes of Health.
She has received numerous awards throughout her education and career and has a few publications on various health topics as well. In her free time, she serves as an Associate Editor for an international journal of public health and teaches Bollywood dancing.