Laura Cho-Stutler, Psy.D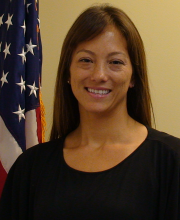 EBP Champion - Consultant, Uniformed Services University of the Health Sciences (USU)
Laura Cho-Stutler, Psy.D
Laura Cho-Stutler, Psy.D.  is the Evidence-Based Psychotherapy (EBP) Champion-Consultant with the Center for Deployment Psychology (CDP) at the Uniformed Services University of the Health Sciences in Bethesda, Maryland.  Located at Schofield Barracks' Department of Behavioral Health in Hawaii, Dr. Cho-Stutler advocates for evidence-based mental health treatment utilization and develops toolkits designed to expand access to and availability of evidence-based psychotherapies. 
Before this current position with the CDP, Dr. Cho-Stutler served as a clinical psychologist for Tele-behavioral Health Psychology Surge Support at Tripler Army Medical Center (TAMC). She previously held a position with the CDP as the Deployment Behavioral Health Psychologist at TAMC. Dr. Cho-Stutler also operated a private practice and was a behavior health consultant for the Family Practice Clinic at Schofield.
Dr. Cho-Stutler earned a master's and doctorate degree in clinical psychology from Argosy University/Honolulu. She completed a clinical psychology internship at the Portland VA Medical Center. She also finished a post-doctoral fellowship in health psychology at a rural health center. Her professional interests include the treatment of trauma-related mental health conditions, motivational interviewing in primary care, provider self-care, and women's health issues.