Military Family Resources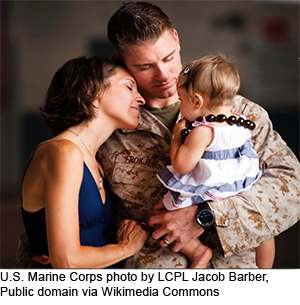 The Center for Deployment Psychology (CDP) trains behavioral health professionals to provide high-quality, evidence-based care to Service members, Veterans and their families. An individual's military service often impacts spouses, partners, children, siblings, parents, and other relatives in a myriad of ways. It's important for providers to become knowledgeable of their unique challenges and concerns and to have helpful resources and educational tools ready to share with them.
The CDP is pleased to offer you an array of military family, couples and children resources including links, books, blogs, apps, reports and articles. We encourage you to incorporate these into your work with family members connected to the military. Additionally, Service members, Veterans and their families can use this webpage directly and discover many resources and tips for themselves and others.
The following are websites that behavioral health providers may find useful.
The appearance of external hyperlinks does not constitute endorsement by the United States Department of Defense (DoD), the Uniformed Services University of the Health Sciences (USUHS) or the Henry M. Jackson Foundation of the linked websites, or the information, products or services contained therein. The DoD and the Center for Deployment Psychology do not exercise any editorial control over the information you may find at these locations. Such links are provided consistent with the stated purpose of this website.