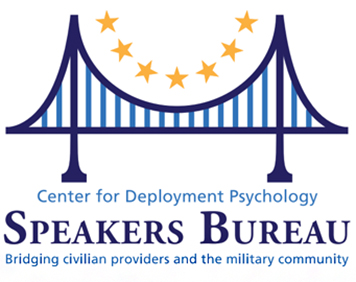 About the Speakers Bureau
Often, the CDP is approached by organizations to provide training, keynote addresses, panel discussions, or webinars that are within our scope of expertise on deployment-related topics, but are outside our regular programs. These requests are handled through the Speakers Bureau.
The Speakers Bureau collaborates with these external agencies and organizations to provide training to civilian mental health providers who are not able to attend other CDP workshops, or when there is a large group of providers in need of training from that agency or organization. These presentations help providers become culturally competent in providing behavioral health care to Service members, Veterans and their families, and increase their awareness and familiarity with evidence-based therapies to treat military and Veteran populations.
CDP trainers are experienced in providing care to the military population. Many are former military or Veterans Administration psychologists with expertise in addressing the deployment-related psychological needs of military personnel, Veterans and their families.
Following are some of our Speakers Bureau trainers:
William Brim, Ph.D.
Paula Domenici, Ph. D.
Lisa French, Psy.D.
Kevin Holloway, Ph.D.
Location
CDP personnel travel to your location to provide the training.
Costs
An honorarium is requested for national conferences and events to help defray CDP's costs of operating this program. In certain cases, the honorarium may be waived or based on a sliding scale. Please call for details.