Definition & Prevalence
Sexual assault within the military refers to sexual contact characterized by use of force, threats, intimidation, or abuse of authority as well as instances in which the survivor is unable to consent. The definition of sexual assault is consistent with the term military sexual trauma (MST) which was coined by the Department of Veteran Affairs (DVA), not the Department of Defense (DoD).  Both the DoD and DVA include sexual harassment and inappropriate touching within the category of sexual violence.  Rates of sexual assault are comparable to same-age peers in civilian populations but may vary according to the definition of sexual assault as well as the time frame considered. In civilian populations, it is estimated that 5.2% of college women report sexual assault annually compared to 2.6% of active duty women (Black et al 2011). For males, .28% of active duty males are sexually assaulted each year (2010 Gender Relations Survey of Active Duty Members ).
Consequences of Sexual Assault
Female OEF/OIF Veterans who experienced sexual trauma were 3.5 times more likely to be diagnosed with a mental health condition than were female OEF/OIF Veterans who had not experienced sexual trauma. This suggests that even among this sample of deployed Veterans who are at risk for experiencing mental health problems, sexual trauma is a significant risk factor for negative mental health consequences (Kimerling et al, 2010). The consequences of sexual assault are numerous including:
Military sexual assault (MSA) has numerous psychological consequences due to the nature of the trauma with an emphasis on the trauma context. More specifically, as an interpersonal assault, it is a personal, intentional violation of an individual's boundaries and personal rights. These assaults are particularly disturbing in the military context. These Service members have been violated within a small community by someone who should be ultimately trustworthy and this violation is completely incompatible with the independent and self-sufficient spirit Service members need to thrive in the military.  One of the most troubling issues is that individuals who have been sexually assaulted often know their assailant and work or live in the same environment as the assailant. This convergence of work, play and social environments makes it particularly difficult to report military sexual assaults. Survivors report apprehensions due to power differentials, concerns that they will be chastised by peers, fears about their progression within the military.
MSA is particularly distressing to male Service members. A number of MSA survivors are males who were sexually assaulted by other men. The psychological consequences of MSA are typically worse for men. Following the assault, heterosexual male survivors often report concerns regarding their masculinity and sexual orientation. Although the assault was clearly an act of power and dominance, male survivors often feel that they were targeted for being effeminate or standing out in some way. It is important to provide psychoeducation on male rape myths and emphasize that the assault was not consensual. Health care providers should also underscore that, even if the MSA survivor experienced some sexual arousal during the assault, which does not imply willing participation.
Although males are sexually assaulted by women less often, the impact is still significant. Again, psychoeducation about male rape myths is an important initial step in treatment. Mental health providers should follow psychoeducation with evidence-based psychotherapy (PE, CPT, CBT-D) as symptoms and functioning dictate.
Recent Legal Updates
The Department of Defense and congressional leadership have recently focused significant efforts and attention on the reduction and prevention of sexual assault. On June 13, 2012. The Department of Defense announced Army Major General Gary S Patton as the new director of the Sexual Assault Prevention and Response Office (SAPRO).  A few of the policy changes are briefly summarized below.
New SAPR training program (announced April 2014) The SAPRO has announced a new training that will be disseminated throughout all phases of professional military education with mandatory annual refreshers. The annual refresher course emphasizes the impact of MSA, prevention and identification of support and resources available to MSA survivors.
National Defense Authorization Act (passed January 2013) The NDAA was passed in 2013 and includes numerous provisions for the reduction of sexual assault in the military. A few of the provisions are listed below:
Convicted sex offenders will be separated from military service

Anyone convicted of a felony sexual assault may not join the military

Improvements in data collection and reporting related to sexual assault investigation

Creating special units to support and provide resources for sexual assault survivors.
Available Resources for MSA survivors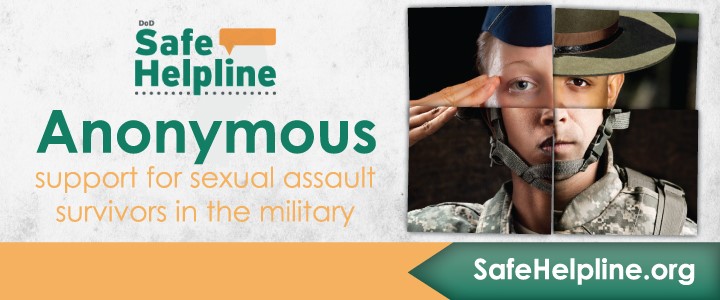 The phone number is the same inside the U.S. or via the Defense Switched Network (DSN): 877-995-5247.

DSN users can dial U.S. toll-free numbers by simply dialing 94 + the 10-digit toll-free number.
​

VA provides free services for mental and physical health conditions related to military sexual trauma (MST).

To receive this free MST-related care, Veterans do not need to be service connected (that is, have a VA disability rating) – eligibility for MST-related health care is independent of receipt of other VA benefits. Veterans may be able to receive free MST-related care even if they are not eligible for other VA care. For example, there are no length of service or income requirements to receive MST-related care. Veterans do not need to have reported the incident(s) when they happened or have other documentation that they occurred.

For more information, please contact the MST Coordinator at your nearest VA health care system (www.va.gov) or visit www.mentalhealth.va.gov/msthome.asp.