The appearance of external hyperlinks does not constitute endorsement by the United States Department of Defense (DoD), the Uniformed Services University of the Health Sciences (USUHS) or the Henry M. Jackson Foundation of the linked websites, or the information, products or services contained therein. The DoD and the Center for Deployment Psychology do not exercise any editorial control over the information you may find at these locations. Such links are provided consistent with the stated purpose of this website.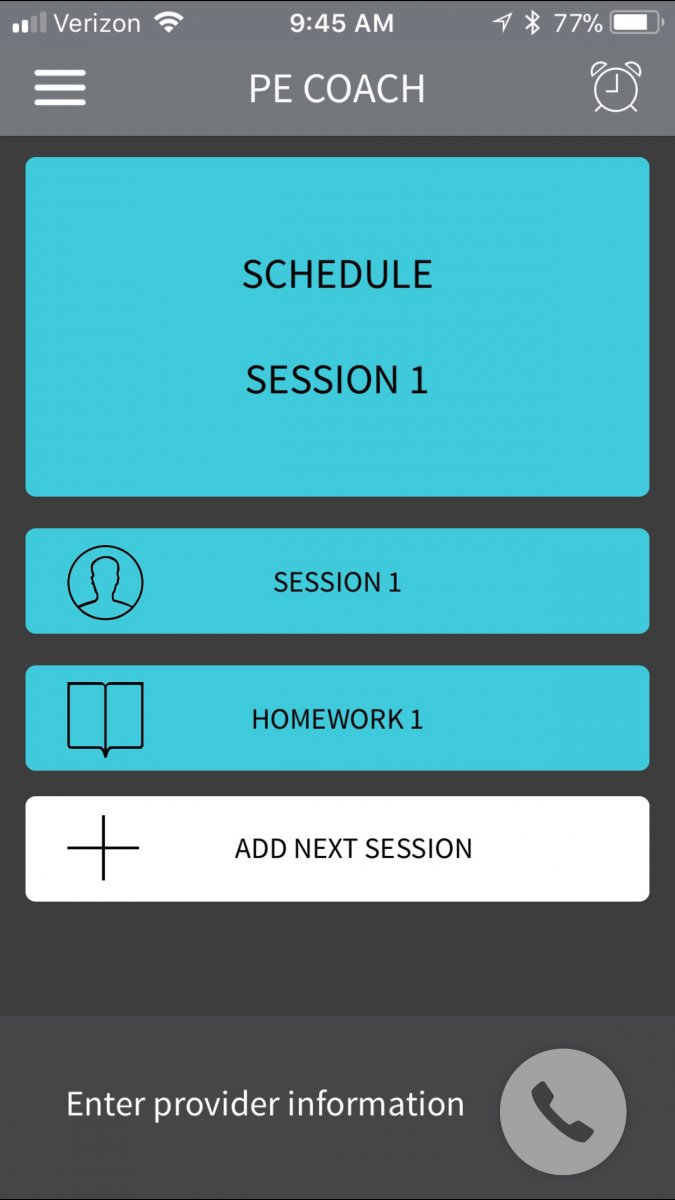 PE Coach is the first mobile app designed to support the tasks associated with prolonged exposure treatment for PTSD. Providing hip-pocket access to the necessary tools for successful PE participation, the app includes audio recording capability for easy playback after sessions; tools to support patient tasks between sessions; and visual displays of symptom reduction over time.
In addition, PE Coach is integrated with smartphone calendar functionality to encourage patient recall and session attendance. 
PE Coach will help providers and patients overcome certain barriers to PE  implementation, dissemination, and adherence.
To download PE Coach on your device, log on to the Apple App Store or Android Market.
| | | |
| --- | --- | --- |
| | | |
| | | |
Additional Information
Prolonged Exposure (PE) is an evidence-based psychotherapy for post-traumatic stress disorder (PTSD). Through both imaginal exposure to memories and live exposure to typically avoided situations, PE empowers those living with PTSD as they learn to process their memories and modify their behaviors. The PE Coach application (app) for mobile devices was created to improve convenience for clinicians and patients as they adhere to the procedures of the published PE treatment manual.
Running on the Android and iOS platforms, PE Coach brings the following functionality to your smartphone or tablet:
For Clinicians:
Audio record the PE session directly to the patient's mobile device

Receive session-by-session feedback on patient's homework and practice completion via app use and activity

Track symptoms over time to evaluate treatment outcomes
For Patients:
Always available in-app homework forms to record completed tasks

Audio/visual education on exposure therapy and common reactions to traumatic experiences

Interactive respiration retraining

Easily accessible session recordings

Scheduling capability to ensure the best treatment results
How PE Coach Can Help You
The first step to using PE Coach is getting into treatment with a qualified therapist trained in PE; PTSD is a serious condition that often requires professional evaluation and treatment. 
The PE Coach app is designed for use by patients and therapists, together, during clinical care; it does not provide self-help, nor does it provide stand-alone treatment. It is designed to streamline the professionally-guided treatment of PTSD. Experienced PTSD treatment professionals can be found at DoD and Veterans Affairs behavioral health facilities around the world.
Below are some other apps which CDP has found useful. For more information and to download the apps, simply click the links in the app titles.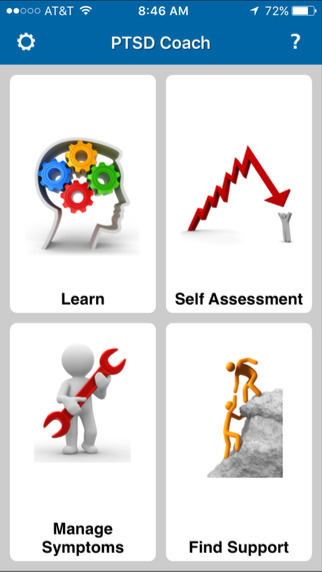 PTSD Coach – This app was developed by T2 in collaboration with the VA's National Center for PTSD to assist Veterans and Active Duty personnel (and civilians) who are experiencing symptoms of PTSD. It is intended to be used as an adjunct to psychological treatment, but can also serve as a stand-alone education tool. Key features of the app include psychoeducation about trauma, PTSD and treatment, self-assessment of PTSD symptoms, the ability to track changes in symptoms over time, and introduction to self-help techniques to manage symptoms of PTSD such as systematic relaxation. In addition, this app provides assistance in finding immediate support by helping the user to identify personal sources of emotional support, populating the phone with those phone numbers, and providing link to treatment programs. In an emergency, users can quickly link to the National Suicide Prevention Hotline. This app is available for download on both Apple/iOS and Android platforms.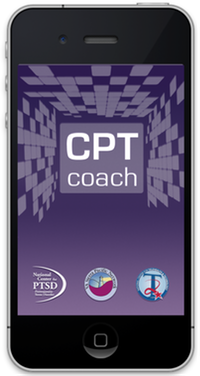 CPT Coach – The CPT Coach app is designed to assist both providers and patients participating in Cognitive Processing Therapy. Some of the features include an assessment tool for tracking symptoms and progress, homework and assignments for each therapy session, session reminders and other CPT educational material. The app was developed by subject matter experts from the Department of Veterans Affairs National Center for PTSD (NCPTSD), the Department of Veterans Affairs Sierra Pacific Mental Illness Research, Education, and Clinical Center (VISN21 MIRECC) and the Department of Defense National Center for Telehealth & Technology (T2). The app is currently available for download on the Apple/iOS platform and Android devices.
CBT-I Coach – is a useful mobile app designed to support Cognitive Behavioral Therapy for Insomnia work with patients. This app provides several key components, including sleep and insomnia psycho-education, reviews of sleep hygiene, relaxation skills, and a sleep diary. The app is also fully supportive of stimulus control work, providing a list of activities to help stay awake, which the user can select based on personal preference, as well as sleep restriction. Similarly, for sleep restriction, lists of activities for late night (designed to help relax before returning to bed) are included. For more information on this app, check out Dr. Holly O'Reilly's review here. The app is available for download on both Apple/iOS and Android platforms.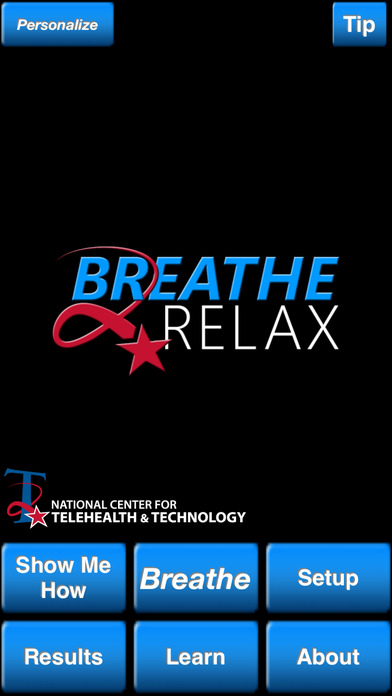 Breathe2Relax – is an app conceptualized as a portable stress management tool utilizing hands-on diaphragmatic breathing exercise. Breathe2Relax uses state-of-the-art graphics, animation, narration, and videos to deliver a sophisticated, immersive experience for the user. Features include customizable backgrounds and music, immersive tutorial videos, body scanner to display effects of stress, graphing to track effectiveness and audio narration. The app is available for download on both Apple/iOS and Android platforms.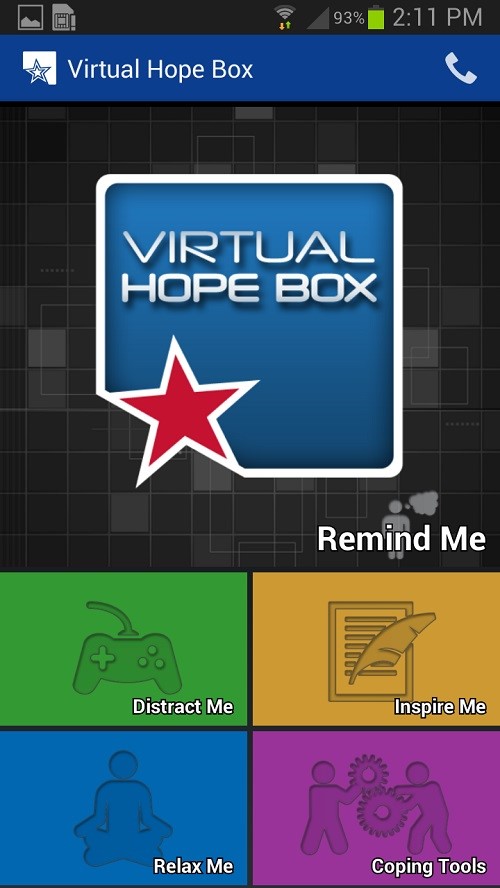 Virtual Hope Box (VHB) – is intended to help patients who are already engaged in treatment by helping to decrease the subjective experience of distress. The app facilitates adaptive coping and emotion regulation skills. The VHB uniquely applied technology to support behavior health earning the app the 2014 Department of Defense Innovation Award.
When using the app, patients can personalize the content, including adding custom supportive media (i.e., pictures, songs, videos). The Virtual Hope Box has four main categories. First, the Distract Me area, users will have access to games that can shift their attention away from upsetting thoughts or experiences. Second, the Inspire Me area, patients will be able to read inspirational quote and can save meaningful quotes of their own as well. Next, relaxation and meditation exercises are found in the Relax Me area of the app. Finally, the Coping Tools area includes Coping Cards and an activity planner.
For even more information, CDP's Sharon Birman wrote about the app on our blog here. The app was created by the National Center for Telehealth and Technology (T2) and is available on Apple/iOS and Android platforms for free.
---
Collaborators