Anthony McCormick, Ph.D.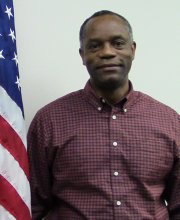 DBHP, Dwight D. Eisenhower Army Medical Center
Anthony McCormick, Ph.D.
Anthony McCormick, Ph.D. is a licensed clinical psychologist with the Center for Deployment Psychology (CDP) at the Uniformed Services University of the Health Sciences in Bethesda, MD. Located at the Dwight D. Eisenhower Army Medical Center, Fort Gordon, Georgia, he provides behavioral health treatment interventions aimed at resolving the clinical issues and mental health concerns of military service members with a focus on deployment related diagnoses. In addition, he serves as a faculty member, instructor, and long-term supervisor of the Medical Center's Clinical Psychology Internship Program.
Prior to joining the CDP, Dr. McCormick served with distinction as an enlisted marine. He considers his completion of the Marine Corps' Staff Noncommissioned Officers Academy as the highlight of his 12 years of military services. He completed his graduate studies at DePaul University where he received a doctoral degree in Clinical Psychology. He completed his psychology internship program in Augusta,Georgia with the Medical College of Georgia Veterans Affairs Medical Center Residency Consortium.