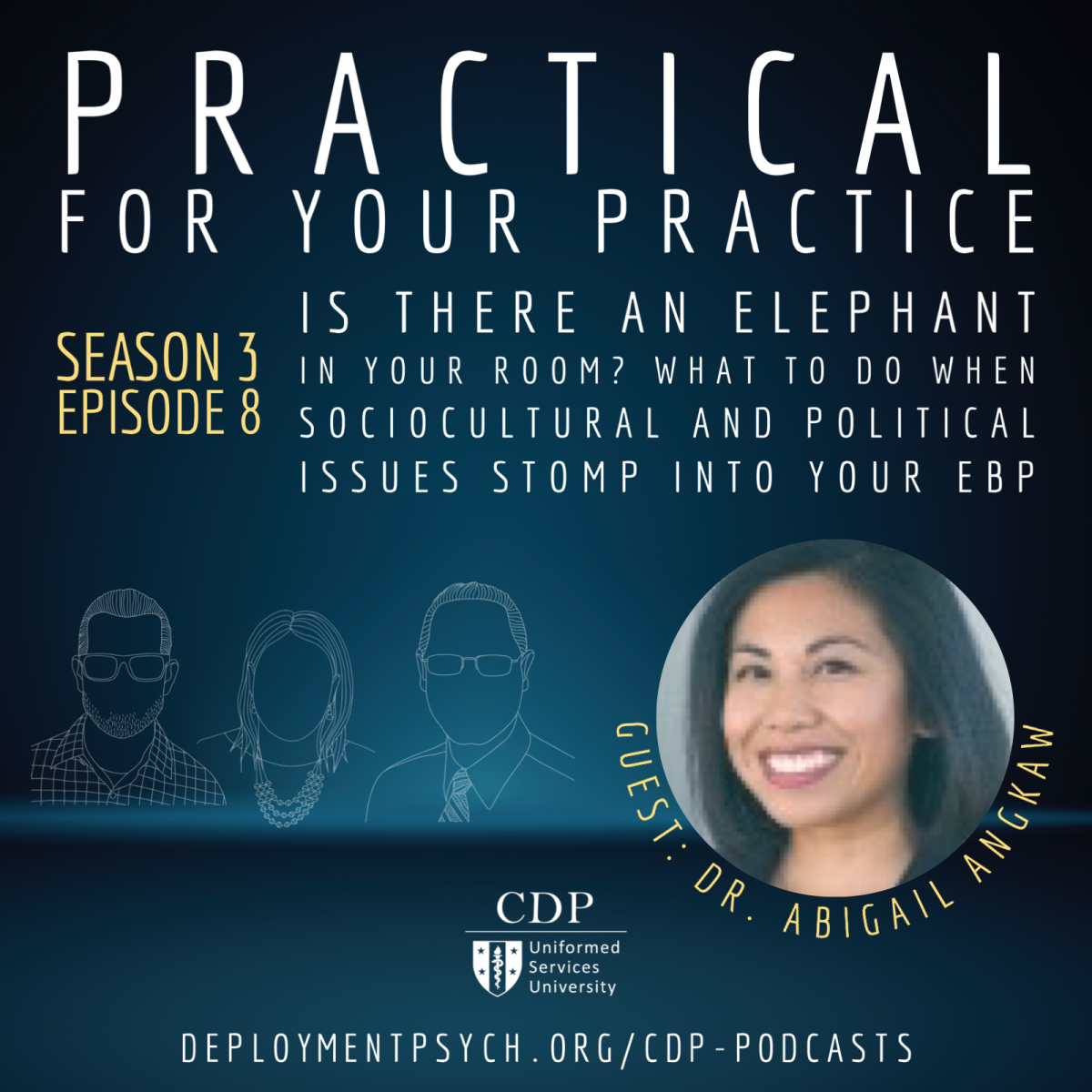 Episode 8, Season 3: Is There an Elephant in Your Room? What to do When Sociocultural and Political Issues Stomp Into Your EBP
Guest: Dr. Abigail Angkaw
You can sense it coming, feel it before you see it and hear it. The small tremors in conversation that warn you the elephant is incoming. You brace, trying to keep the focus on your agenda, perhaps cling to the familiar safety of your EBP protocol. But the elephant is coming into your clinical space and now you have to decide what to do.
In this episode of Practical for your Practice, we roll up our sleeves with Dr. Abigail Angkaw to address the topic of what clinicians can do when sociocultural and political issues stomp into their EBP. More specifically, what to do when we clinicians, as humans, have a strong reaction to those issues. THAT, is the elephant in the room. Tune in for some tips to tune up on areas like disclosure, self-reflection, microaggressions, finding empathy, context and case conceptualization, and what is best for your client and YOU when those elephants won't leave your room.
Show Notes:
Dr. Abigail Angkaw  is a Consultant with the PTSD Consultation Program through the National Center for PTSD, clinical psychologist, Section Chief at the VA San Diego, and an Associate Clinical Professor at the University of California, San Diego. Her primary research interests include PTSD and co-occurring conditions as well as improving the delivery of mental health treatment. Coming from a military family, Dr. Angkaw is personally invested in helping providers through complex clinical and administrative challenges to provide high quality care for Veterans with PTSD. Dr. Angkaw received her PhD from the University of Cincinnati and completed her internship and postdoctoral fellowship at the UCSD and VA San Diego.
Resources Mentioned in This Episode: 
CDP Presents: Treating PTSD When Clinicians Have Negative Reactions to Patients' Sociocultural Views
Cultural Formation Interview
National Center for PTSD Consultation Program
Center for Deployment Psychology Consultation Program
Calls-to-action: 
Subscribe to the Practical for Your Practice Podcast
Subscribe to The Center for Deployment Psychology Monthly Email
This podcast is produced by the Center for Deployment Psychology at the Uniformed Services University of the Health Sciences. The views expressed are those of the speakers and do not necessarily reflect the opinions of the Uniformed Services University, the Department of Defense, or the US Government. In addition, reference to any specific company, products, processes, or services does not necessarily constitute or imply endorsement by the Uniformed Services University, the Department of Defense, or the US Government.