April Thompson, LCSW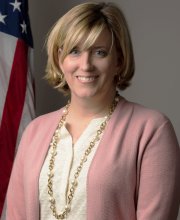 Cognitive Behavior Therapy Trainer
April Thompson, LCSW
April Thompson, LCSW, is a clinical social worker currently working as a Cognitive Behavioral Therapy Trainer with the Center for Deployment Psychology (CDP) at the Uniformed Services University of Health Sciences (USU) in Bethesda, Maryland.  In this capacity, she is responsible for the development and delivery of both live and web-based trainings to military and civilian mental health providers on deployment-related topics.
Ms. Thompson received her Bachelor of Arts degree from Pepperdine University in Malibu, CA and her Master of Social Work degree from University of Pennsylvania.  She completed her internship in Okinawa, Japan with Marine Corps families at risk for child abuse and neglect providing home-based parenting support and education.
For over 20 years, Ms. Thompson has specialized in military child and family issues especially in the area of domestic violence and family maltreatment prevention, response and treatment.  She has worked as a clinical counselor on military bases in Japan, Florida and Hawaii.  Prior to joining CDP, Ms. Thompson was a clinical care coordinator overseeing the training and quality control of clinical documentation for contracted counselors working at Navy bases throughout the continental United States.