April Thompson, LCSW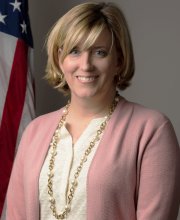 Military Behavioral Health Social Worker
April Thompson, LCSW
April Thompson, LCSW, is a clinical social worker currently working as a Military Behavioral Health Social Worker with the Center for Deployment Psychology (CDP) at the Uniformed Services University (USU) in Bethesda, Maryland. In this capacity, she is responsible for the development and delivery of both live and web-based trainings to military and civilian behavioral health providers on deployment-related topics.
Ms. Thompson received her Bachelor of Arts degree from Pepperdine University in Malibu, CA and her Master of Social Work degree from University of Pennsylvania.
For over 20 years, Ms. Thompson has primarily worked with military couples and families in a wide range of settings including on bases in Virginia, Florida, Hawaii, and Japan. She has expertise in couples counseling addressing the stresses associated with military life as well as prevention and treatment of intimate partner violence and suicide. Prior to joining CDP, Ms. Thompson worked on a contract supervising the clinical care and training of counselors working on Navy bases throughout the United States.