Kimberly A. Copeland, Psy.D.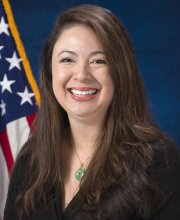 DBHP, Naval Medical Center Portsmouth
Kimberly A. Copeland, Psy.D.
Kimberly A. Copeland, Psy.D. is a Deployment Behavioral Health Psychologist with the Center for Deployment Psychology at the Uniformed Services University of the Health Sciences in Bethesda, Maryland. Physically based at Naval Medical Center Portsmouth, she is an integral part of the training committee responsible for teaching and supervising interns and residents in the Navy's APA-accredited Pre-doctoral internship and Post-doctoral fellowship programs. She has also provided training and consultation in evidence-based treatments to psychiatry residents, nurses and social workers treating Active-Duty service members and their families. Prior to joining the CDP, Dr. Copeland worked at Portsmouth Naval's Substance Abuse and Rehabilitation Program.
Dr. Copeland received her bachelor's degree in biology from James Madison University and her master's and doctorate degrees in clinical psychology from Regent University in Virginia Beach, VA. She is a graduate of the Vanderbilt University VA Medical Center Consortium, where she completed various rotations at both the Murfreesboro and Nashville VA Hospitals, in addition to working at the university medical center.  She later pursued post-doctoral training working with children and military families in a residential hospital setting. She has worked with a diverse group of patients in various settings providing in-depth psychological and neuropsychological assessment and therapy.
Her professional interests include the treatment of anxiety and depression, PTSD/trauma and health, working with military families and multicultural competency within the treatment and training settings.