Raechel Martin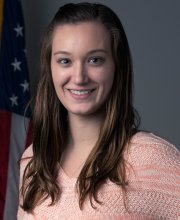 Data Coordinator for Research and Evaluation
Raechel Martin
Raechel Martin is the Data Coordinator for the Research and Program Evaluation team. Raechel joined CDP in August 2015. She received Bachelor of Arts degrees in Psychology and Criminology from Penn State University in May 2015.
Since joining CDP, Raechel worked as an Administrative Assistant for the Speakers Bureau and SBHP team before transitioning to the Data Coordinator position a year later. In this role, she has worked to effectively summarize and disseminate data on training programs in order to provide meaningful feedback to executive teams and project managers. Additionally, she has worked to develop new projects and processes that make use of existing datasets and enhance the capabilities of the program evaluation team.
Outside of CDP, Raechel has worked in numerous research labs studying PTSD, military stress and leadership, and childhood resilience and adversity. She is currently in the process of obtaining a Master of Science degree in Psychology from Villanova University.