Regina Shillinglaw, Ph.D.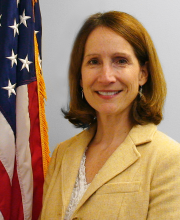 DBHP, Wright Patterson Medical Center
Regina Shillinglaw, Ph.D.
Dr. Regina Shillinglaw is a deployment behavioral health psychologist with the Center for Deployment Psychology at the Uniformed Services University of the Health Sciences in Bethesda, Maryland.  Located at Wright Patterson Medical Center in Ohio, she is a faculty member and the assistant training director in the APA-approved pre-doctoral psychology internship training program.  There, she engages in clinical work, assists with program management and trains psychology, psychiatry and social work residents and interns on deployment-related mental health issues.  Dr. Shillinglaw is also a consultant on base for deployment-related issues and is a liaison between Wright Patterson Medical Center and agencies throughout Ohio for military behavioral health issues.  In addition, she teaches military mental health topics to civilian mental health professionals in various locations.
Dr. Shillinglaw is a veteran of the United States Air Force. While on active duty, she was stationed at Robins Air Force Base for three years as the chief of Psychological Services.  She received her Ph.D. in clinical psychology from the University of South Carolina.
Prior to joining the CDP, Dr. Shillinglaw was in private practice where she treated adult and child trauma survivors, patients with depression and/or anxiety disorders, and families in the process of divorce. She also conducted forensic evaluations pertaining to custody matters.