On 21 Apri 2022, the CDP held their second annual EBP Conference "Making Space for Change: Focusing on Process in Evidence-Based Treatment." This year's theme centered on the notion that provider competence requires more than skillful implementation of protocol elements. Equal attention to the context and process in which change occurs is required for implementation to be successful.
The EBP Conference is designed for behavioral health providers from all disciplines, including psychologists, psychiatrists, clinical social workers, counselors, marriage and family therapists, and nurse practitioners. The conference should be of particular interest to those involved in the dissemination and implementation of evidence-based psychotherapies, such as internship and resident training directors and faculty, clinical supervisors and consultants, clinic managers, academic instructors who teach other behavioral health providers to provide best practices and evidence-based care as well as front line providers.
If you weren't able to join us for the live event, we are happy to be able to provide recordings of each of the presentations. Click on any of the below titles to view a video of the presentation. Please note, the below recordings are for informational purposes only and do NOT include CE credits. 
Click here to visit the 2023 EBP Conference Archive
Click here to visit the 2021 EBP Conference Archive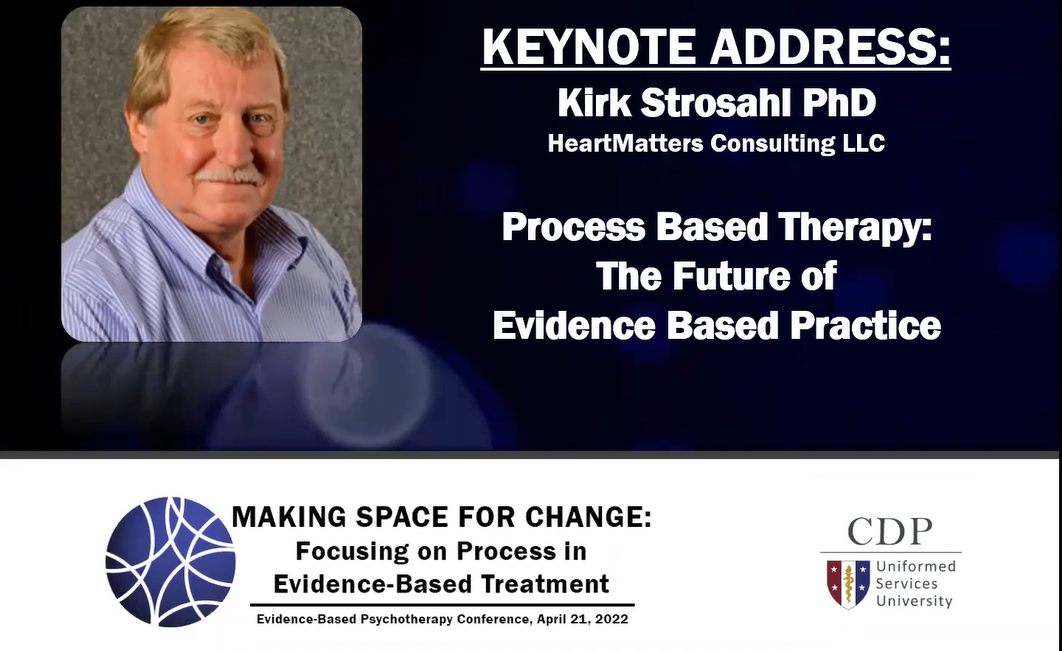 Process-Based Therapy: The Future of Evidence-Based Practice by Kirk Strosahl, Ph.D., HeartMatters LLC. There has been a "sea change" in the field of psychotherapy theory and research that promises to reshape the landscape of evidence based practice for years to come. The era of disorder specific treatment protocols has resulted in a "tower of babel" effect, with each protocol claiming to be different from the others. In reality, evidence based protocols share many similar assumptions and routinely use the same intervention strategies. This had led to a widespread recognition that there may be uniform change processes responsible for positive clinical outcome in therapy, regardless of the treatment approach. Read more...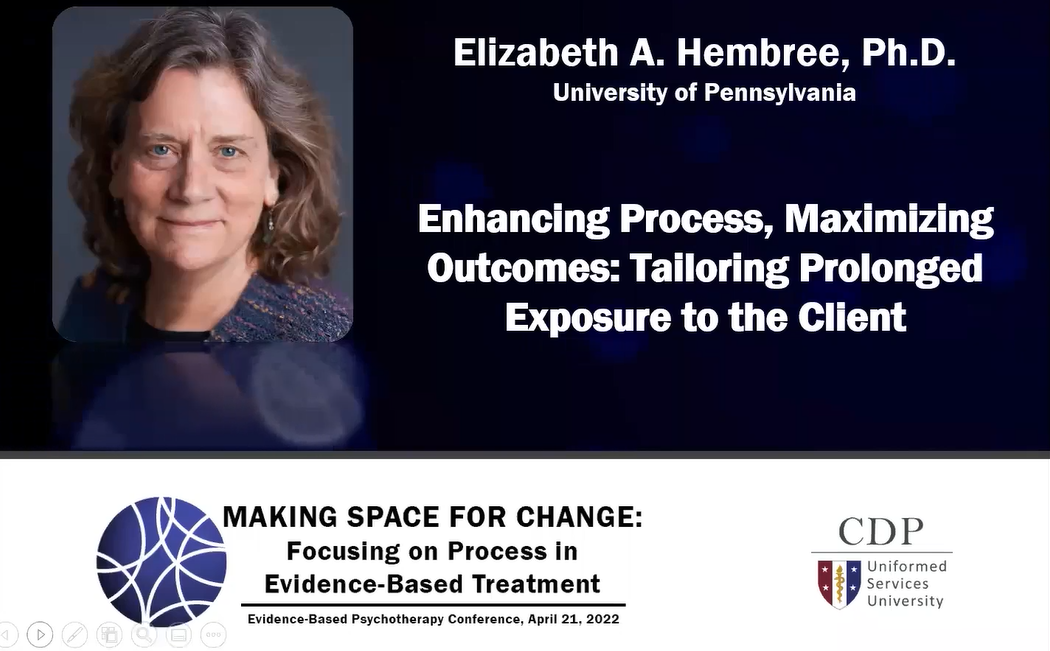 Enhancing Process, Maximizing Outcomes: Tailoring Prolonged Exposure to the Client Dr. Bill Brim provides an introduction to the EBP Conference, followed by Elizabeth A. Hembree, Ph.D., University of Pennsylvania: Prolonged exposure therapy (PE; Foa, Hembree, Rothbaum, & Rauch, 2019) has amassed a large body of research supporting its efficacy and effectiveness. PE has been designated as a first line treatment for PTSD in a number of clinical guidelines (e.g., Institute of Medicine, 2008; 2017 VA/DOD Clinical Practice Guideline) and has been broadly disseminated in the United States and broad as well as in systematic roll-outs in the VHA and DOD. Read more...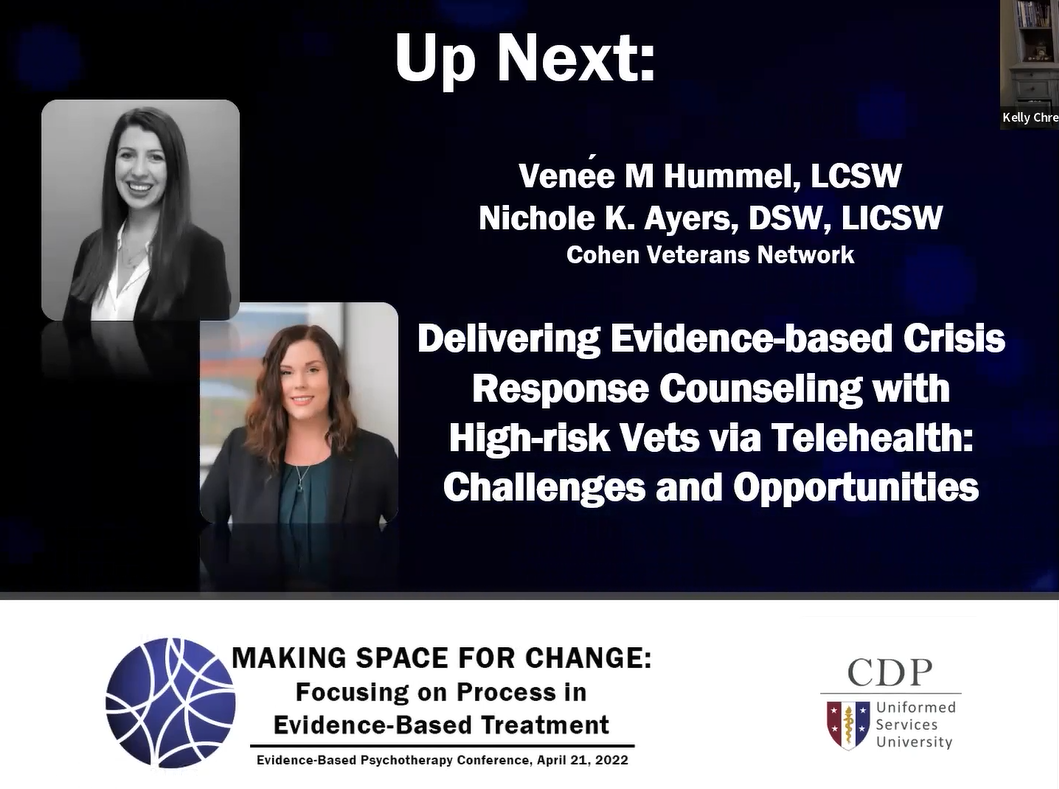 Delivering Evidence-Based Crisis Response Counseling with High-Risk Vets via Telehealth: Challenges and Opportunities by Venee M. Hummel, LCSW & Nichol K. Ayers, DSW, LICSW, Cohen Veterans Network: Whether practicing in person or by telehealth, safety and crisis planning are essential elements of clinical practice with military members and veterans, who are identified as being at significantly increased risk for suicide compared to the US population overall (McCarthy, et. al 2009). The effectiveness of safety plans in reducing suicide attempt rates has been well demonstrated, for example Bryan et al (2017) examined the impact of crisis response safety planning on suicide attempts among US soldiers at high-risk. Read more...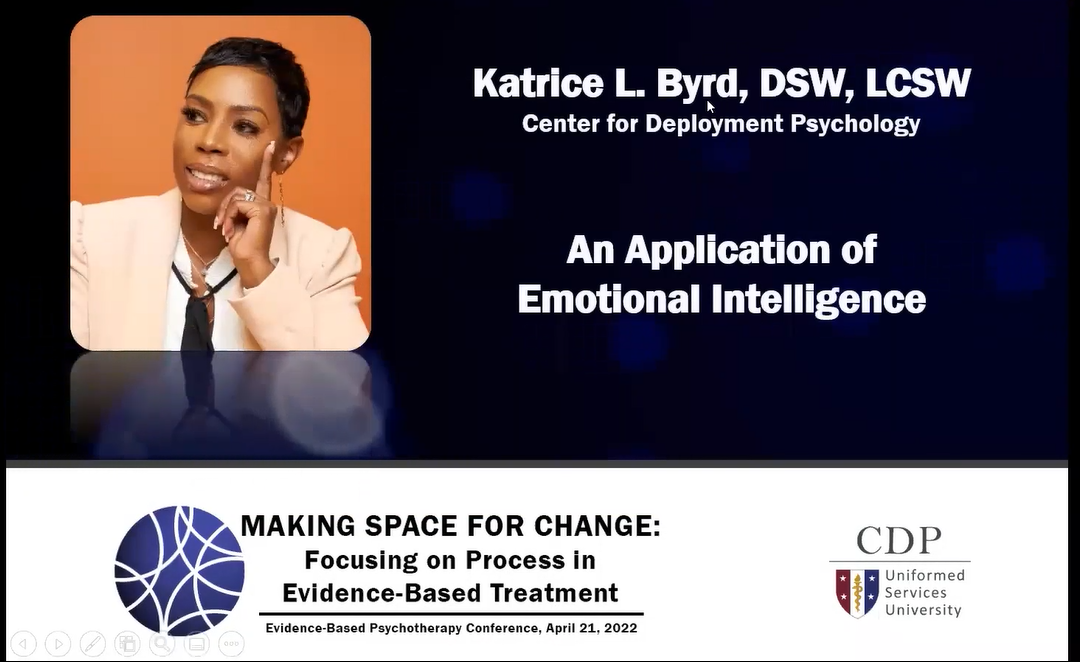 An Application of Emotional Intelligence by Katrice L. Byrd, DWS, LCSW, Center for Deployment Psychology, Uniformed Services University: The Application of Emotional Intelligence presentation will provide participants the opportunity to gain an in-depth understanding of the components of Emotional Intelligence through the lens of both their personal and professional identities. Professionals will then be given an opportunity to reflect and devise an action plan leading to improvement in needed areas when working with patients/peers. There will be opportunities for discussion, reflection, and feedback in addition to an introduction to tools/strategies to assist participants with implementation after the presentation. Read more...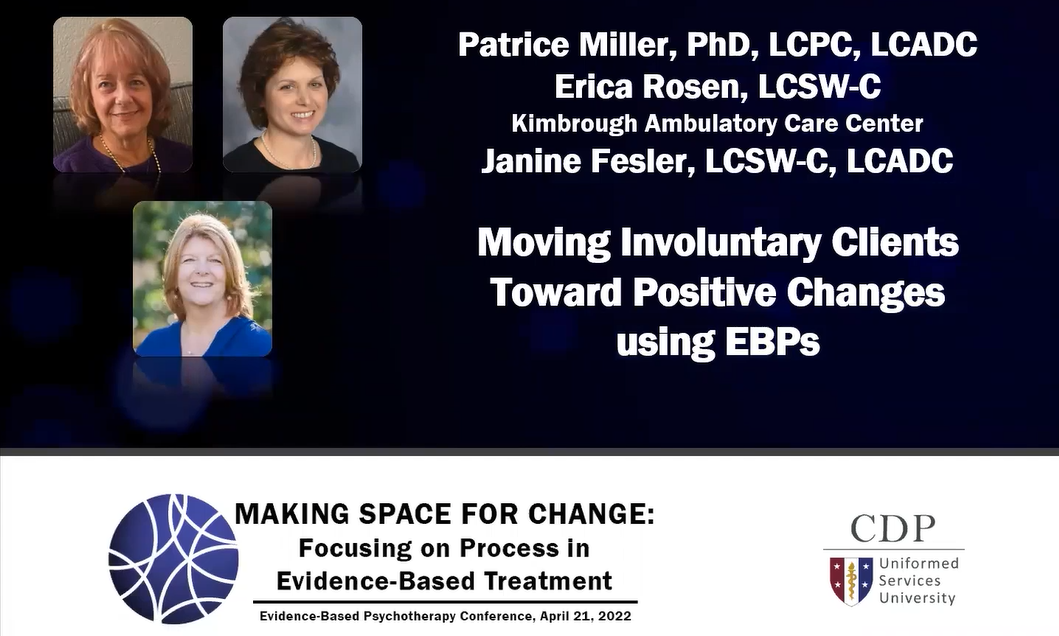 Moving Involuntary Clients Toward Positive Changes Using EBPs by Patrice Miller, Ph.D., LCPC, LCADC, Erica Rosen, LCSW-C, Kimbrough Ambulatory Care Center, Janine Fester, LCSW-C, LCADC: A voluntary patient arrives at the therapy office mostly convinced that therapy will be beneficial; an involuntary patient arrives convinced that it will be at best a waste of time and at worst, may have negative effects on their life and career. We will discuss skills that clinicians can use to build therapeutic alliance and move toward positive changes when using EBPs with involuntary clients. Read more...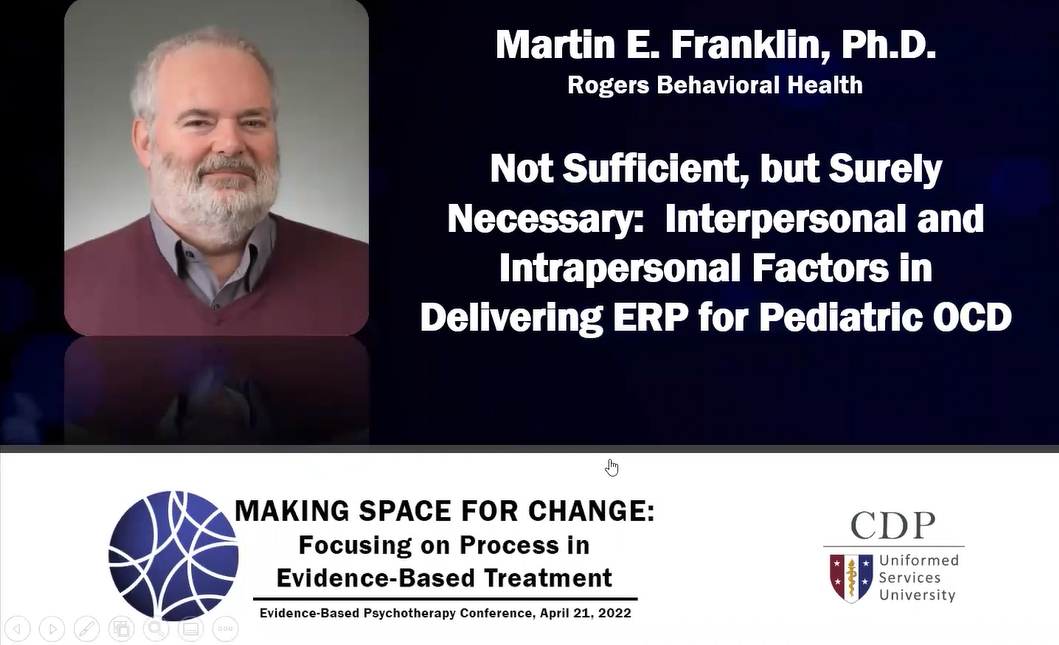 Not Sufficient, but Surely Necessary: Interpersonal and Intrapersonal Factors in Delivering ERP for Pediatric OCD by Martin E. Franklin, Ph.D., Rogers Behavioral Health: Exposure plus Response Prevention (ERP) is an empirically supported treatment for obsessive compulsive disorder across the developmental spectrum, and its efficacy above and beyond nonspecific treatments is well established. Nevertheless, intra- and interpersonal factors affect delivery of this EST, and will be the focus of this lecture. Franklin, Freeman, & March (2019) discussed therapist factors in detail in their ERP manual, emphasizing the establishment of trustworthiness, empathy, confidence, humility, flexibility, and tolerance of one's own discomfort as non-specific factors likely to influence treatment delivery, within- and betweensession patient protocol adherence and, by extension, treatment efficacy. Emphasis will be placed on how to develop and demonstrate each of these characteristics, with ample clinical examples employed to enhance understanding of these concepts and their clinical applications. Read more...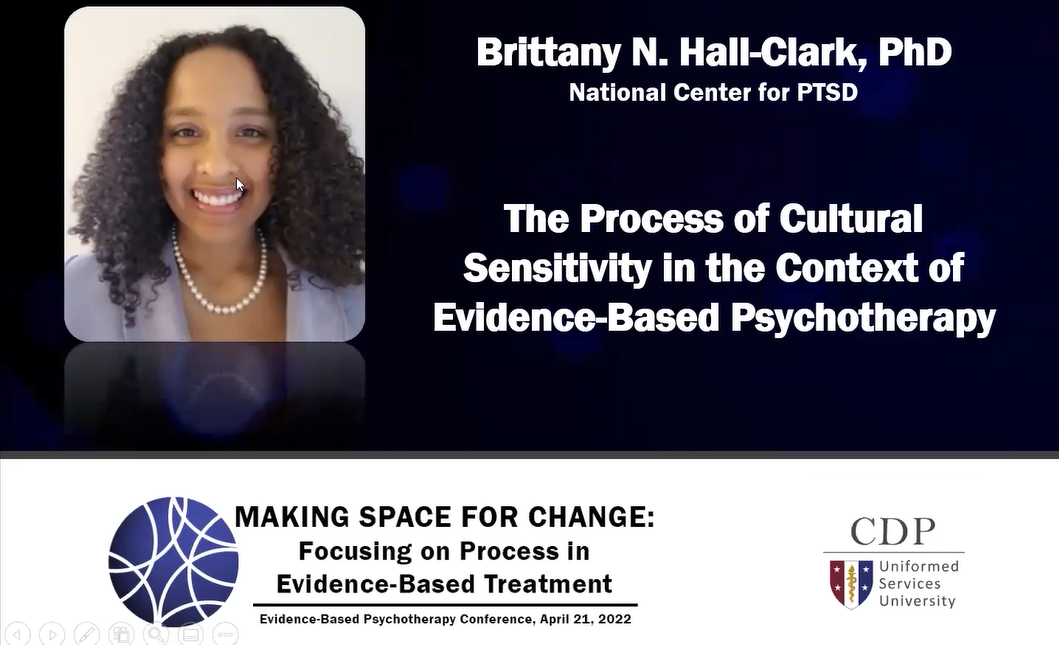 The Process of Cultural Sensitivity in the Context of Evidence-Based Psychotherapy by Brittany N. Hall-Clark, Ph.D., National Center for PTSD: This workshop focuses on elucidating the importance of attending to cultural factors when using evidence-based psychotherapies. The presentation will include an overview of the need for cultural sensitivity in this area and will share information from extant research related to cultural adaptations. In addition, specific strategies related to clinician self-awareness and client assessment, diagnosis, and treatment will be discussed. Case examples will be used to illustrate concepts. Read more...