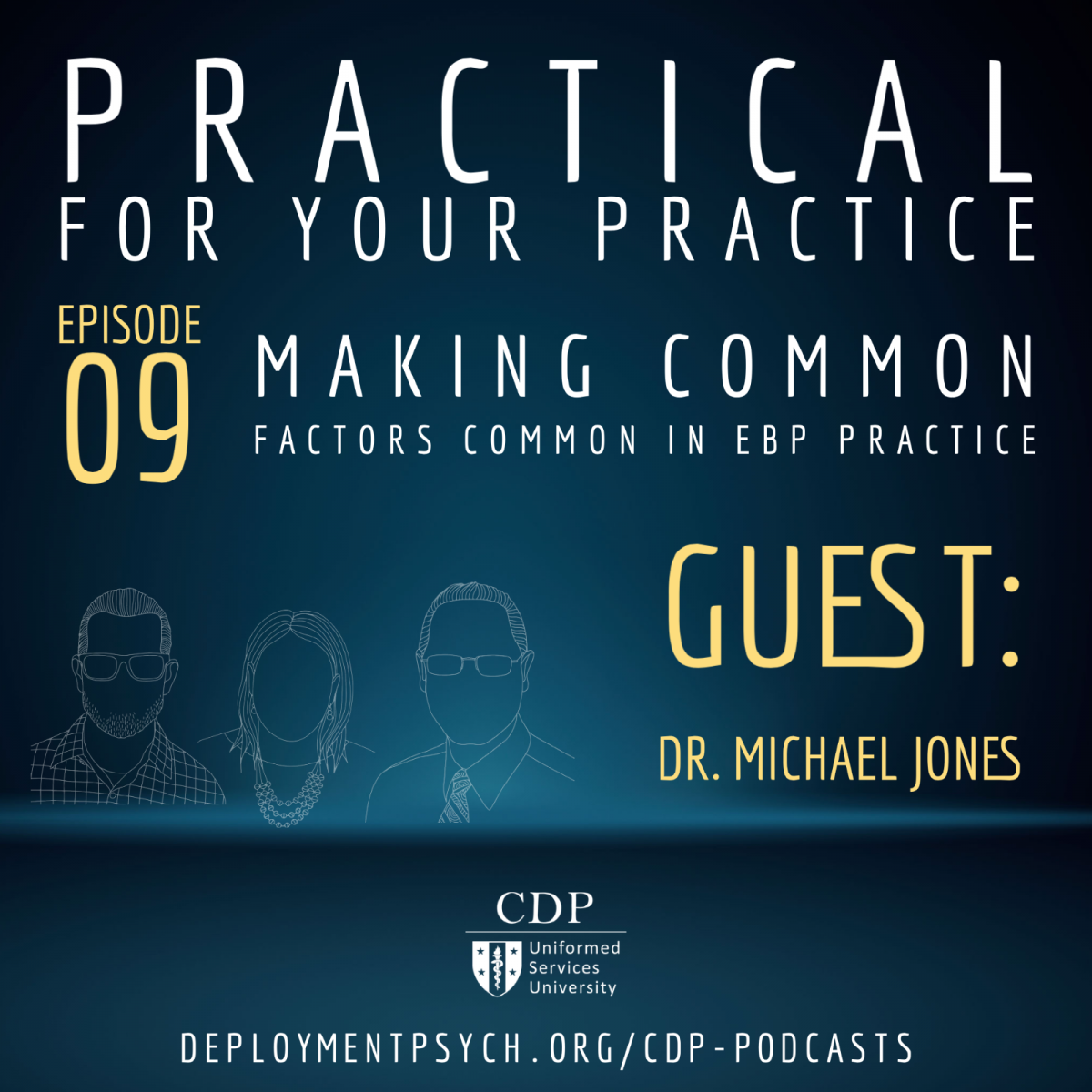 Episode 09 " Making Common Factors Common in EBP Practice "
Guest: Dr. Michael Jones
When learning a protocol for evidence-based psychotherapy, the question commonly arises about common factors: "Why do I need to learn this protocol if most of the change in psychotherapy can be traced back to common factors?" or conversely "If I follow the steps on this protocol checklist, I don't have to worry about common factors at all like therapeutic alliance, right?"
Join us as we discuss the interplay of common factors and EBP protocols, how they are not mutually exclusive, and how to make sure you are attending most to the real person and the real relationship with you in the room while applying EBP techniques.
Show Notes:
Dr. Michael Jones Dr. Michael Jones has 18 years of experience working with the military as a psychologist. During this time, he has deployed overseas twice, he has held a variety of roles as a clinician, as a consultant, educator/supervisor and researcher. Dr. Jones has spent the majority of his career working with the Army and Air Force, but has spent time with the other military branches and multiple federal agencies. During his time as a medical residency faculty member, he supervised multiple years of incoming army psychologists, social workers and medical residents on clinical skills and mental health treatment. During the height of combat operations during the late 2000's, he developed and managed multiple population-focused mental health resiliency programs, including peer suicide prevention training and peer resiliency training. Much of his later career has been embedded in military units, where he developed a passion for making mental resiliency skills accessible to service members.
Resources mentioned in this episode:
10:28 Common Factors Research, The Dodo Bird Verdict Rosenzweig, Saul (1936). "Some implicit common factors in diverse methods of psychotherapy". American Journal of Orthopsychiatry. 6 (3): 412–15. doi:10.1111/j.1939-0025.1936.tb05248.
28:29 Duncan, B.L., Miller, S.D., Wampold, B.E.,and Hubble, M.A. (Eds.) (2009). The Heart and Soul of Change: Delivering What Works in Therapy. Washington: American Psychological Association Press. 
28:34 Lambert, M.J. (Ed.) (2013). Bergin and Garfield's Handbook of Psychotherapy and Behavior Change, Sixth Edition. John Wiley & Sons, Inc., Hoboken, NJ.
29:07 Outcome Rating Scale, by Scott Miller and Barry DuncanMiller, S.D., Duncan, B.L., Brown, J., Sparks, J.A., and Claud, D.A. (2003). The Outcome Rating Scale: A Preliminary Study of the Reliability, Validity, and Feasibility of a Brief Visual Analog Measure. Journal of Brief Therapy. 2(2): 91-100
32:35 Outcome Questionnaire: OQ-45.2 -- https://www.oqmeasures.com/oq-45-2/
Calls-to-action: 
Use outcome measures in therapy, including measures of therapeutic alliance and symptom improvement.
Consider your client's readiness for change and work collaboratively at their current level of readiness.
Subscribe to the Practical for Your Practice Podcast
Subscribe to The Center for Deployment Psychology Monthly Email
This podcast is produced by the Center for Deployment Psychology at the Uniformed Services University of the Health Sciences. The views expressed are those of the speakers and do not necessarily reflect the opinions of the Uniformed Services University, the Department of Defense, or the US Government. In addition, reference to any specific company, products, processes, or services does not necessarily constitute or imply endorsement by the Uniformed Services University, the Department of Defense, or the US Government.