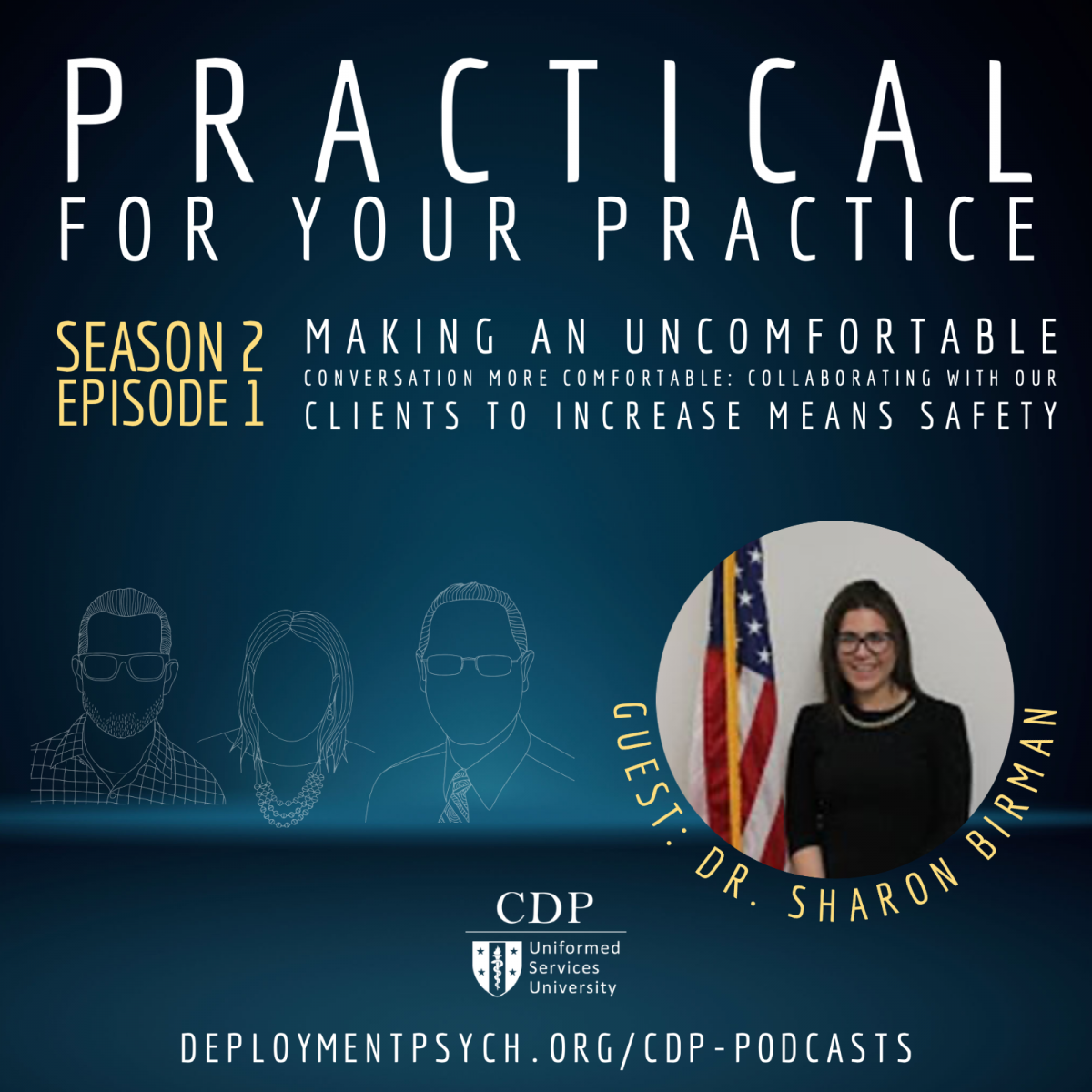 Episode 1, Season 2: "Making an Uncomfortable Conversation more Comfortable - Collaborating with our Clients to Increase Means Safety "
Guest: Dr. Sharon Birman
In this episode we are joined by one of CDP's suicide prevention experts, Dr. Sharon Birman, to talk about means safety counseling and how to work collaboratively with a person in suicidal crisis to more effectively mitigate harm. Come join us as we talk about how this public health initiative has become a key one-on-one intervention.
We'll review common myths and barriers to the use of means safety counseling as well as resources to shore up providers' skills in this area. Come get more comfortable with what can be an uncomfortable topic.
Show Notes:
Dr. Sharon Birman , is a Military Behavioral Health Psychologist working with the Military Training Programs at the Center for Deployment Psychology (CDP) at the Uniformed Services University of the Health Sciences in Bethesda, Maryland. In this capacity, she develops and presents training on a variety of EBPs and deployment-related topics, as well as providing consultation services. She has traveled widely across the United States and OCONUS providing continuing education to civilian and military behavioral health providers teaching a variety of courses, including Cognitive Therapy for Suicide Prevention, Cognitive Behavioral Therapy for Depression, Cognitive Behavioral Therapy for Chronic Pain, Assessment of PTSD, Traumatic Brain Injury, Military Sexual Assault and Military Family Resilience. She joined the CDP in 2014 after completing her postdoctoral fellowship at Harbor-UCLA Medical Center, where she was actively involved in CBT and DBT intervention, supervision and education.
She completed her predoctoral internship at Didi Hirsch Mental Health Center, focusing her training on suicide prevention and evidence-based interventions for the treatment of individuals with severe, chronic mental illness. Dr. Birman received her bachelor's degree in psychology from the University of Southern California and her master's and doctorate degrees in clinical psychology from Pepperdine University.
Resources mentioned in this episode:
Counseling on Access to Lethal Means (CALM) Training developed by SPRC
Brief Cognitive Behavioral Therapy (BCBT) for Suicide Prevention resources:
Means Matter Website by Harvard
Calls-to-action: 
Know the legislation in your state (Means Matter website breaks down legislation state-to-state)
Recognize that this is a collaborative effort - develop skills to have the conversation
Attend CDP's Suicide Prevention training and check out additional resources listed
Subscribe to the Practical for Your Practice Podcast
Subscribe to The Center for Deployment Psychology Monthly Email
This podcast is produced by the Center for Deployment Psychology at the Uniformed Services University of the Health Sciences. The views expressed are those of the speakers and do not necessarily reflect the opinions of the Uniformed Services University, the Department of Defense, or the US Government. In addition, reference to any specific company, products, processes, or services does not necessarily constitute or imply endorsement by the Uniformed Services University, the Department of Defense, or the US Government.