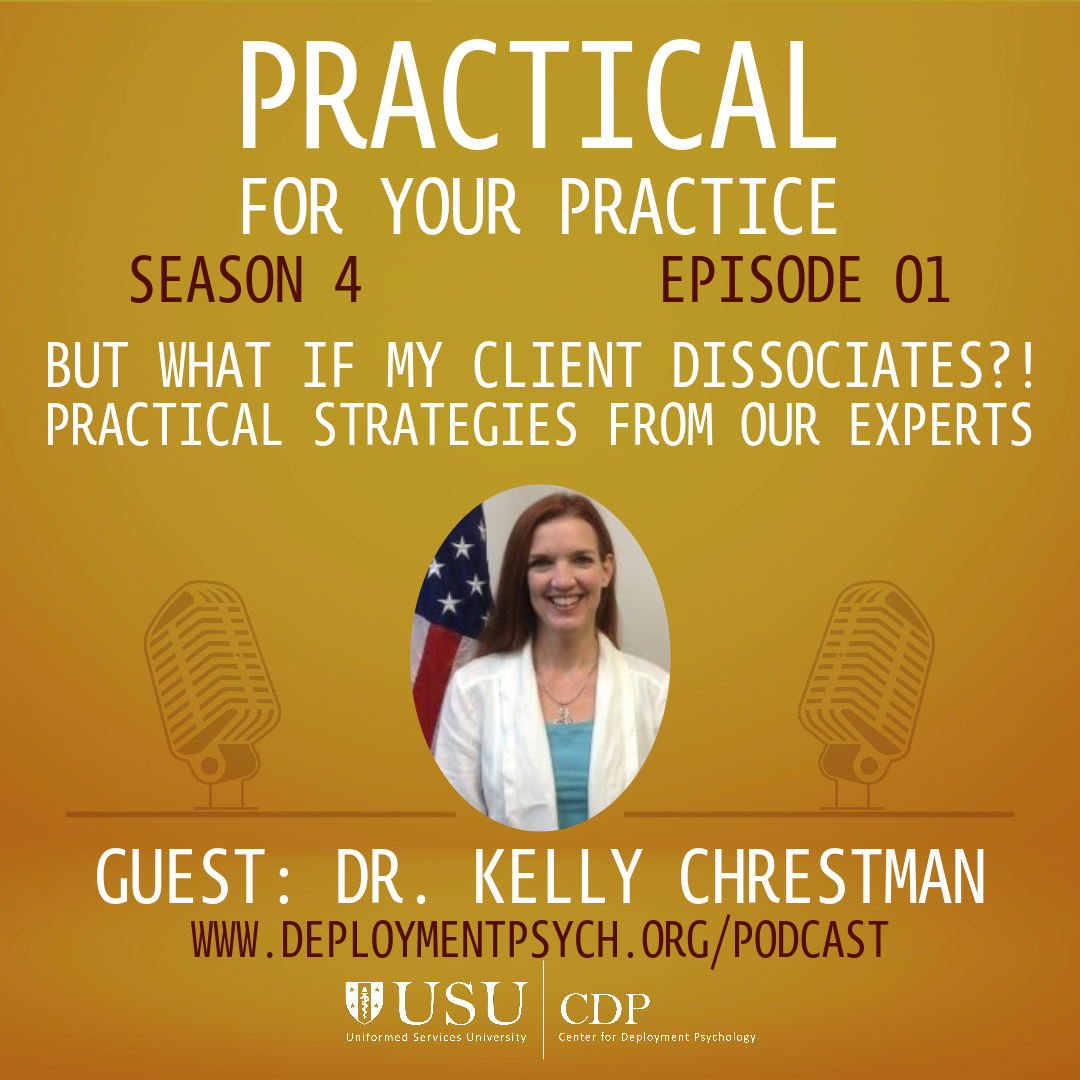 Episode 1, Season 4: But What if My Client Dissociates?! Practical Strategies From Our Experts
Guest: Dr. Kelly Chrestman
Welcome back for Season 4! Some big changes this season – we are sad to say goodbye to Dr. Andy Santanello who did a phenomenal job as co-host in seasons 1 - 3. Andy has pivoted to new opportunities and we wish him well! In his place, we are happy to introduce Dr. Carin Lefkowitz (long time guest, first time host) as our new Practical for your Practice co-host! Welcome, Carin!
In our first episode of season 4, we tackle one of the top concerns we hear in our PTSD EBP workshops and consultation… "But what if my client dissociates?!". If this has been on your list of clinical worries, worry no more! Take a listen as we discuss what is dissociation (and what isn't)? What is its function? How can we best assess it? When is it likely to show up? AND most importantly, what providers can do to manage it in the context of their EBP work! Our own Dr. Kelly Chrestman is back to share actionable intel!
Show Notes:
Kelly Chrestman Ph.D., is a Senior Military Behavioral Health Psychologist at the Center for Deployment Psychology. She provides training, support and consultation in Cognitive Behavioral Therapy and in the Assessment and Treatment of PTSD. She works with the team at CDP to find new and better ways to link clinicians with both traditional and innovative resources that will help them implement EBPs more effectively. This includes leveraging computer technology and virtual assets to reach professionals that might otherwise have difficulty accessing high quality training and consultation.
Calls-to-action: 
Dissociative Subtype of PTSD-National center for PTSD
DES-II - Dissociative Experiences Scale
Target Behaviors & Behavior Chain Analysis - DBT Self Help
What is Dissociation and What to do About it?
Subscribe to the Practical for Your Practice Podcast
Subscribe to The Center for Deployment Psychology Monthly Email
This podcast is produced by the Center for Deployment Psychology at the Uniformed Services University of the Health Sciences. The views expressed are those of the speakers and do not necessarily reflect the opinions of the Uniformed Services University, the Department of Defense, or the US Government. In addition, reference to any specific company, products, processes, or services does not necessarily constitute or imply endorsement by the Uniformed Services University, the Department of Defense, or the US Government.