Andrew Santanello, Psy.D.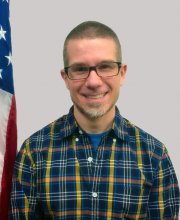 Military Behavioral Health Psychologist
Andrew Santanello, Psy.D.
Andrew Santanello, Psy.D is a licensed, clinical psychologist and Military Behavioral Health Psychologist at the Center for Deployment Psychology. Dr. Santanello joined CDP after over a decade of service in the Veterans Health Administration where he was a staff psychologist in the Trauma Recovery Program. In addition to providing direct services to Veterans, Dr. Santanello also served in several leadership positions including Team Leader for the Serving Returning Veterans-Mental Health Program, Program Manager for the PTSD/SUD Psychosocial Residential Rehabilitation Program, and Evidence Based Psychotherapy coordinator during his time in the VHA. Dr. Santanello is a National Cognitive Processing Therapy (CPT) trainer. Professional interests include Evidence-Based Psychotherapy (specifically CPT, PE, CBT-D), provider resilience, and mindfulness-based interventions.