Jeff Cook, Ph.D.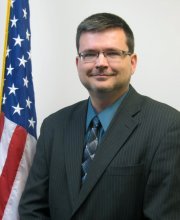 Director of Military Training Programs
Jeff Cook, Ph.D.
Jeffrey H. Cook, Ph.D., is a clinical psychologist serving as the Director of Military Programs for the Center for Deployment Psychology at the Uniformed Services University of the Health Sciences in Bethesda, Maryland. In this capacity, he oversees several of the Center's training programs, including Deployment Behavioral Health Providers and the two week training course for military providers.
A 23-year veteran of the United States Navy and Marine Corps, Dr. Cook served in various capacities during his military career including Marine reservist, Navy corpsman, and clinical psychologist. As an active duty psychologist, he served as the Mental Health Division Officer in Okinawa, Japan, ship psychologist on the U.S.S. George Washington, and as the department head for the Psychological Health and Traumatic Brain Injury Program at NNMC Bethesda, MD. He also deployed to Fallujah, Iraq in support of Operation Iraqi Freedom.
Dr. Cook graduated from the Uniformed Services University of the Health Sciences with a doctorate in clinical psychology and completed a clinical psychology internship at the National Naval Medical Center (NNMC), Bethesda MD. He currently serves as adjunct faculty at USUHS.
Dr. Cook's professional interests include cognitive behavioral therapy, dissemination and implementation of evidence-based treatment approaches, program evaluation, and combat-related PTSD.