Kelly Chrestman, Ph.D.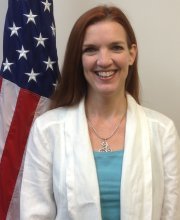 Senior Military Behavioral Health Psychologist
Kelly Chrestman, Ph.D.
Kelly Chrestman, Ph.D., is a Senior Military Behavioral Health Psychologist at the Center for Deployment Psychology. She provides training, support and consultation in Cognitive Behavioral Therapy and in the Assessment and Treatment of PTSD.
She works with the team at CDP to find new and better ways to link clinicians with both traditional and innovative resources that will help them implement EBPs more effectively. This includes leveraging computer technology and virtual assets to reach professionals that might otherwise have difficulty accessing high quality training and consultation.
Before coming to CDP, she trained at the National Center for PTSD in Boston, and at the University of Pennsylvania with Dr. Edna Foa. She is a Subject Matter Expert in Prolonged Exposure Therapy for PTSD and has trained numerous students and mental health professionals across the world in techniques for treating PTSD and other anxiety disorders. She also spent several years working closely with Native American Tribes where she focused on adapting evidence -based practice to better meet the needs of traditional Native communities.
She is co-author of the Adolescent PE Manual, Prolonged Exposure Therapy for Adolescents with PTSD, and has written about community and professional responses to trauma, particularly domestic violence and sexual assault. She is also a co-developer of the Virtual PTSD Learning Center and Operation Avatar, a game-based educational experience about trauma and combat-related PTSD, both hosted in the Second Life Virtual World platform.