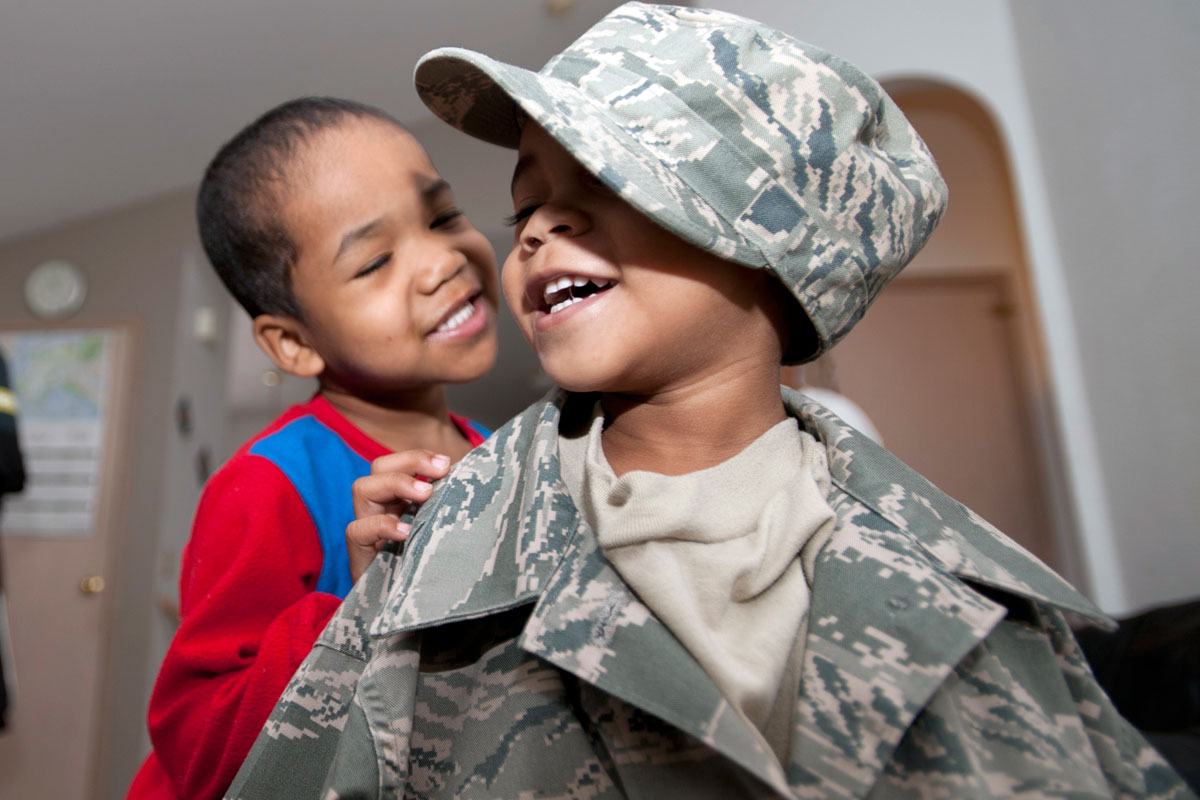 U.S. Air Force photo by SSgt Sheila Devera. Public domain 
April is the Month of the Military Child. During this time, the CDP will spotlight the unique challenges faced by military children as well as their strengths. Our goal is to raise awareness about these children and educate behavioral health providers and other professionals about identifying and supporting them. Often this cadre of youth goes unrecognized in communities, neighborhoods and schools across our country and internationally depending on where their military parents are stationed.
At CDP, we have an existing page on our website dedicated to providing resources for providers working with military families and children. This April we will highlight a variety of these resources, including infographics and new blogs. We will also be hosting a series of four free 90-minute webinars with subject matter experts in the field discussing special topics with this population: the implications of military deployments on children; military children and trauma; the unique challenges of military families with special needs; and the use of the "I Serve 2" reference guide that was developed to help medical and behavioral health providers identify and support military-connected children.
These trainings are listed below and on our Upcoming Training Calendar, so be sure to register. We hope that you will return to our site several times in April to check out all of the content we will be rolling out. We look forward to celebrating military children with you this month!
As we focus on the Month of the Military Child, we invite you to watch the brief video below titled, "Deployment is Not a Casual Word" that highlights the experiences of military spouses and children when a Service member deploys. (This video was developed by the team at Legacy Magazine and is used with permission from Abi Ray, LMFTA.)
Infographics:
| | | |
| --- | --- | --- |
|           7 Cs of Child Resilience |           Military Child Resources |           Military Family Demographics |
| | | |
Blogs:
During the month, CDP staff will be contributing brief, informative entries on a variety of topics related to military children. 
8 April - Celebrating the Month of the Military Child by Marjorie Weinstock
15 April -The Challenges of COVID-19 on Military Families and Resilience of Military Kids by Kaleigh DeSimone
23 April - Caring for the Mental Health Needs of the Military Child by Kimberly Copeland
29 April - Lessons Learned and Strategies for Deployed Service Members to Maintain Quality Family Contact -Perspectives from Three Providers by Augusto Ruiz
Previous blog entries
CDP Presents Webinars:
We will be holding a series of weekly 90-minute webinars on various topics related to military children. These free webinars will also come with 1.5 CEs. Click below for more information or to register for these events.