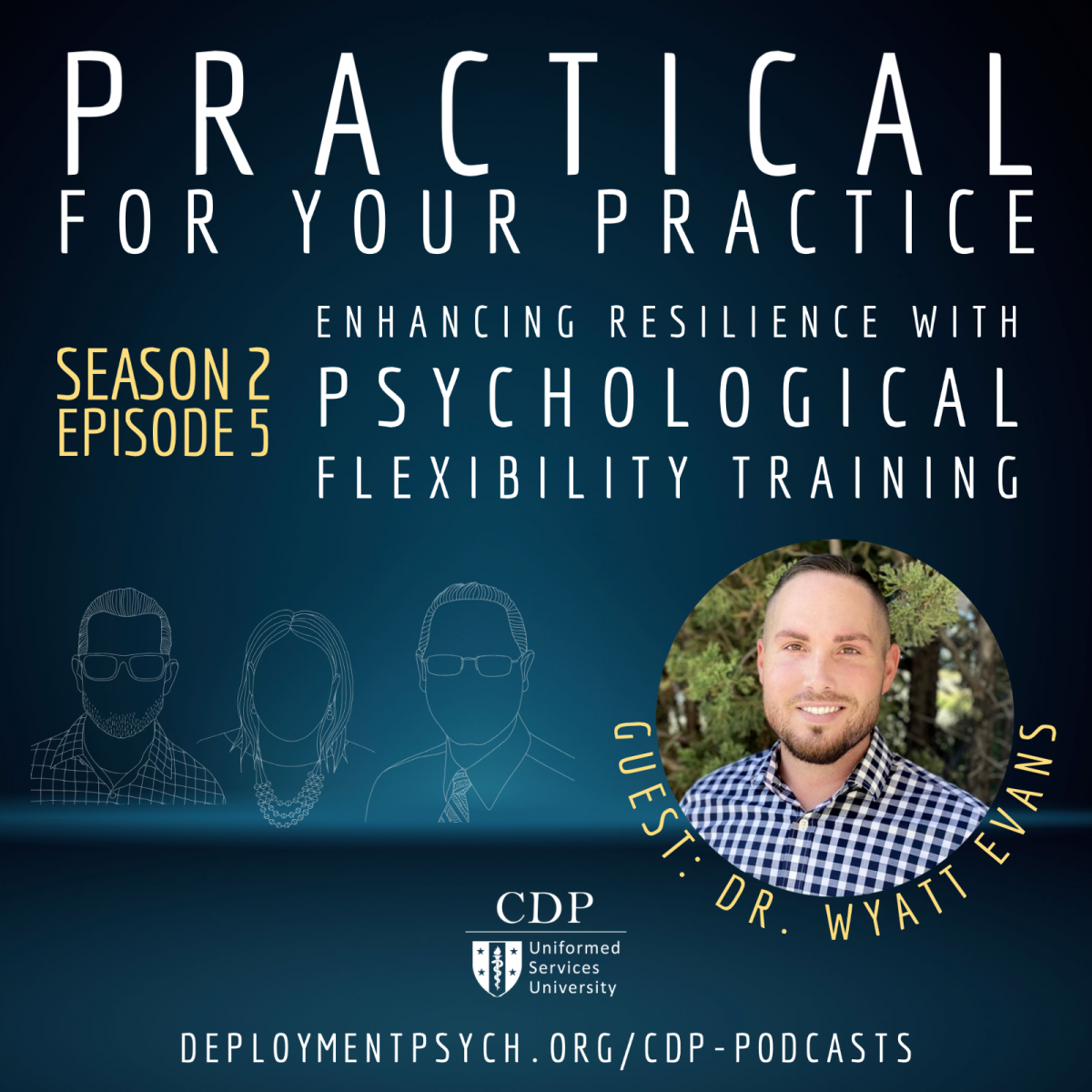 Episode 5, Season 2: "Enhancing Resilience with Psychological Flexibility Training"
Guest: Dr. Wyatt Evans
What is resilience? What is Psychological Flexibility? What are the points of convergence between these two concepts? Practically speaking (and you know we LOVE practical stuff), it turns out that the Psychological Flexibility model may offer a unique pathway to the direct enhancement of resilience.
In this episode, we chat with Dr. Wyatt Evans about his exciting insights and research about the role that psychological flexibility may play in resilience.
Show Notes:
Wyatt R. Evans, Ph.D., ABPP, is a board-certified clinical psychologist in the VA North Texas Health Care System and private practice in the Dallas-Fort Worth area. His areas of clinical and research interest include combat and operational stress, moral injury, trauma-focused treatment, and resilience enhancement. Dr. Evans currently supports DoD-, VA-and NIH-funded research into the prevention and treatment of PTSD, moral injury, and other stress reactions among military personnel. His primary area of expertise is in Acceptance and Commitment Therapy (ACT), and he has developed programs for utilizing ACT to treat a moral injury, enhance resilience, and facilitate posttraumatic growth. On moral injury, Dr. Evans has published on definitional distinctions, interventions, religious/spiritual considerations, and associated outcomes. Dr. Evans is a co-investigator on an initial acceptability/feasibility trial of ACT for moral injury and is the lead author of a recently published book titled The Moral Injury Workbook.
Resources mentioned in this episode:
Calls-to-action: 
Subscribe to the Practical for Your Practice Podcast
Subscribe to The Center for Deployment Psychology Monthly Email
This podcast is produced by the Center for Deployment Psychology at the Uniformed Services University of the Health Sciences. The views expressed are those of the speakers and do not necessarily reflect the opinions of the Uniformed Services University, the Department of Defense, or the US Government. In addition, reference to any specific company, products, processes, or services does not necessarily constitute or imply endorsement by the Uniformed Services University, the Department of Defense, or the US Government.