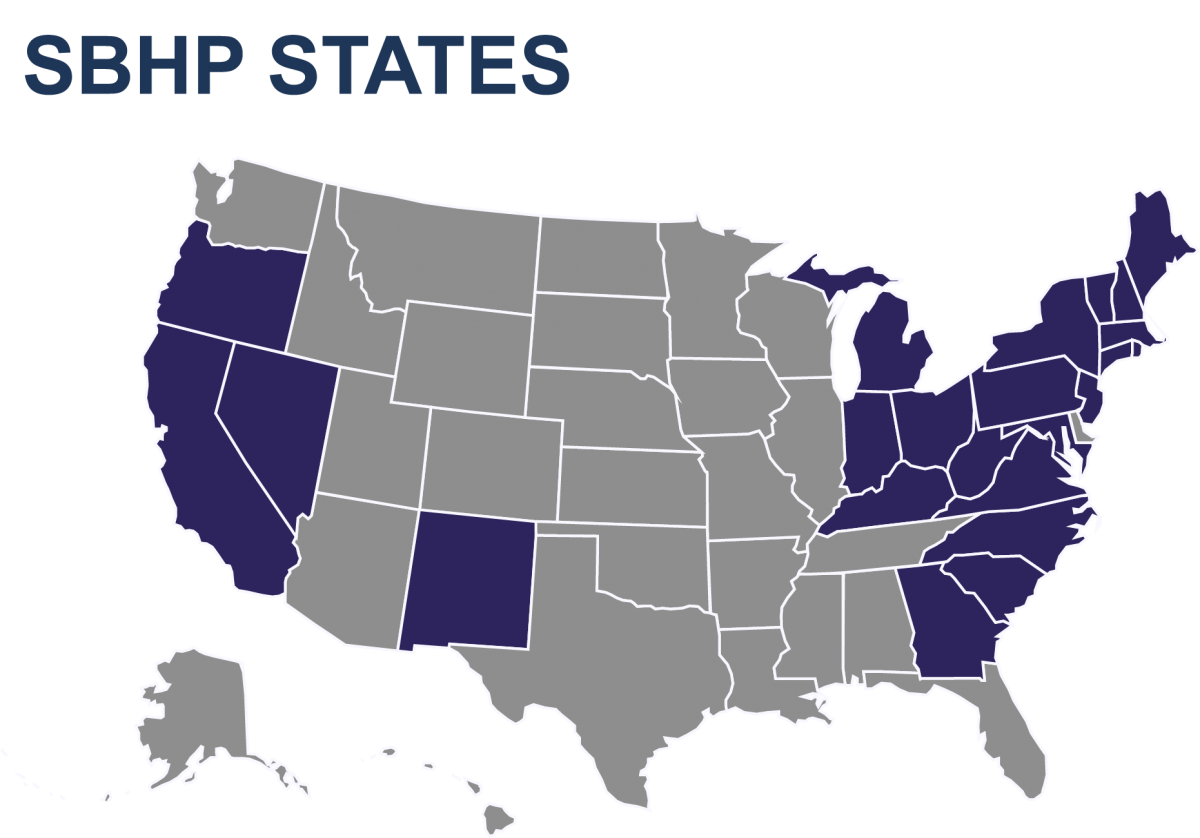 What is SBHP?
Star Behavioral Health Providers (SBHP) is a training and referral program. The goal is to expand access that National Guard members and their families have to high quality, evidence-based behavioral health treatment. Launched nearly 10 years ago, SBHP was developed as a partnership of the Indiana National Guard, National Guard Bureau, Indiana's Family and Social Services Administration, Center for Deployment Psychology (CDP), and Military Family Research Institute at Purdue University (MFRI). It uses a two-pronged approach:
First, it provides three levels of training for civilian behavioral health providers in your state and local communities who are interested in serving the military population, particularly NG members.
Second, it offers a public online registry or listing that allows Service members, their families, military behavioral health providers, military leaders, and others to easily search for trained providers in their area.
Which states have Star Behavioral Health Providers (SBHP)?
Currently SBHP is offering training events for behavioral health providers in California, Connecticut, Indiana, Kentucky, Maine, Maryland, Massachusetts, Nevada, New Hampshire, New Jersey, New York, North Carolina, Ohio, Oregon, Pennsylvania, Rhode Island, South Carolina, Utah, Vermont, Virginia, and West Virginia, with more states to be added in the future.
Georgia, South Carolina, Utah, and California, have active registries, but are not currently offering training.
If Star Behavioral Health Providers (SBHP) isn't offered in my state, how do I make this available for our providers?
If you are interested in bringing SBHP to your state, please visit www.starproviders.org or call the Military Family Research Institute (MFRI) at Purdue at (765) 496-3403 and ask for an SBHP representative. To learn more, email: admin@starproviders.org.
How do I find a provider on the Star Behavioral Health Provider (SBHP) Registry?
If you are looking for a provider in a participating SBHP state simply go to www.starproviders.org and follow the links for the SBHP registry. Enter your zip code/city information and search for a behavioral health provider with whom you wish to work.
Do I have to work in the mental health field to attend a training?
For Tiers One and Two, you do not need to be a mental health provider. Community members are welcome to attend these tiers and learn more about military culture and gain a better understanding of military life. Tier Three training events are reserved for mental health providers who are on the registry.
Where can I see what training is available?
Please visit, www.starproviders.org to see what training opportunities are available.
I am interested in attending a training, but I can't commit to an entire training. Can I only attend part of a training?
Unfortunately, no. In order to receive credit for the training you must attend the entire training.
Do you offer self-paced training?
Currently, our training events are offered as synchronous online and live trainings. No courses are offered on demand.
Are the CEs really free?
Yes, they are!
If I attend the Tier training events with SBHP, will I be guaranteed a job?
This program is a training and referral program only. It is not affiliated with employers.
Is SBHP a counseling training program?
No, our focus is to give providers a better understanding of the military. For Tier Threes, evidenced-based training events (EBPs) are offered to those who have been trained as clinicians. The EBPs offer additional tools to utilize when working with the military-connected population.
Can SBHP guarantee that I will get referrals if I join the registry?
Unfortunately, no guarantees can be made about referrals. Our registry is actively marketed so that those who need services can find clinicians that have been trained through SBHP.
Will SBHP pay providers for services?
SBHP will not provide payments for services.
Are SBHP trainings the same as those offered by CDP?
Tier Three training events are the same as the EBPs offered by CDP. However, Tier One and Tier Two are currently only offered through the SBHP program. SBHP CEs are at no cost to participants.
Training events through CDP have a nominal cost for CEs.
SBHP training events are only available to actively participating states or providers who are licensed and practicing in an actively participating state.
SBHP Tier Threes are available only to members of the registry, CDP trainings are open to all clinicians.