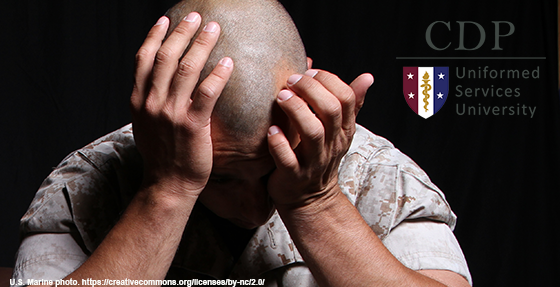 Throughout October the Center for Deployment Psychology will be featuring a special spotlight on the topic of Chronic Pain. 
During this month, CDP is hosting numerous events and posting several features and resources on Chronic Pain, including blogs, webinars, training events, and infographics.
Click on the icons below or scroll down to find resources to expand your knowledge and skills to assess and treat Chronic Pain effectively.
---
CHRONIC PAIN-RELATED TRAINING EVENTS
CDP offers numerous events throughout the year to help train providers on Chronic Pain. In October, we will be offering even more opportunities for providers to increase their knowledge and skills. 
To register or for more details on any of these events, click on the links below!
5 October 2021 9:00 a.m.- 5:30 p.m. ET: Identifying and Treating Opioid Use Disorder in Military-Connected Clients: The Role of Civilian Community Mental Health Providers
20-21 October 2021 9:00 a.m. - 5:30 p.m. ET: Understanding and Treating Chronic Pain in Military Personnel 
27 October 2021 12:00 - 1:30 p.m. ET: CDP Presents: Non-pharmacological Pain Management in the Context of Trauma Polymorbidity - View a recording
---
INFOGRAPHICS
---
BLOG ENTRIES
This month's Staff Perspective blog entries will include entries on Chronic Pain and its treatment. 
In addition, we also have numerous existing blog entries on the subject, including:
---
CHRONIC PAIN RESOURCES
 In addition to the publicly-accessible resources below, as part of this month's Chronic Pain spotlight, we have created a brand-new section with a variety of handouts, documents, and other tools to assist with the treatment of Chonic Pain. It's exclusively available in the CDP's Provider Portal section of this site. If you have previously attended a CDP-led training in any EBP, you should already have access. If not, we invite you to register for an upcoming EBP today!
---
Below is a curated list of recordings from various Chronic Pain-related webinars that the CDP has offered in the past. For a complete list, you can click here to visit our webinar archive.