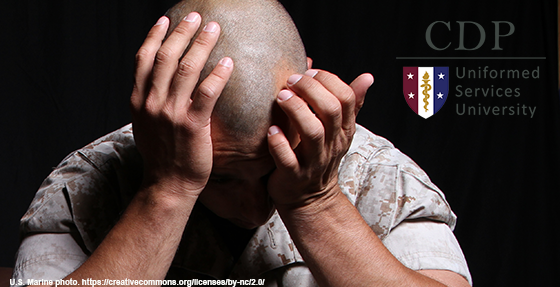 June is PTSD Awareness Month. While this topic is important at the Center for Deployment Psychology year-round, we will be providing special emphasis on the subject of PTSD during June.
Throughout the month, CDP is hosting numerous events and posting several features and tools regarding the assessment and treatment of PTSD, including blogs, webinars, training events, and PTSD-specific infographics.
Click on the icons below or scroll down to find resources to expand your knowledge and skills to treat PTSD effectively, serving those who have served.
---
NATIONAL PTSD SCREENING DAY
This year CDP is partnering with the National Center for PTSD (NCPTSD) to promote National PTSD Screening Day on June 27. But you don't have to wait until then to get help. Free, confidential screening is available now at the NCPTSD website.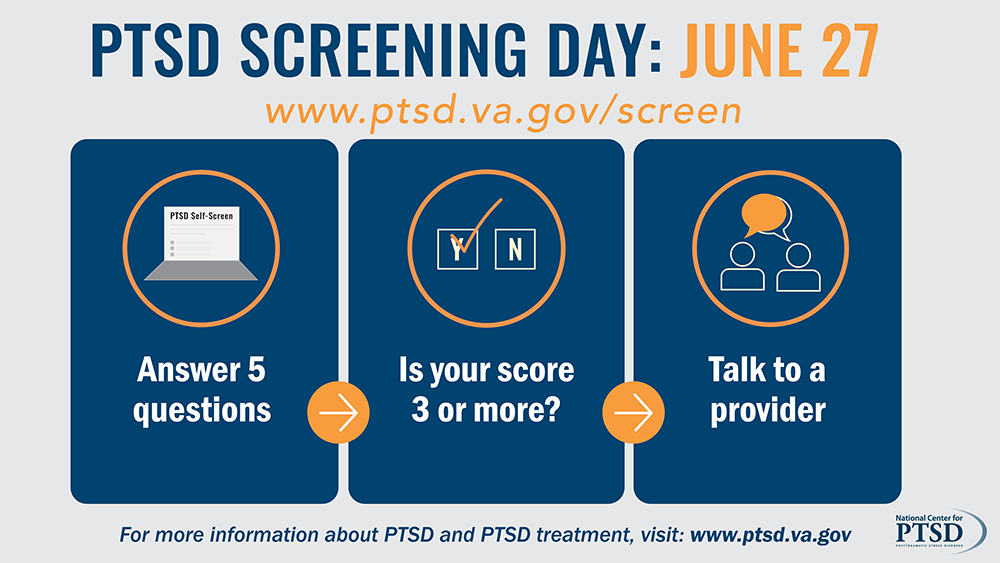 ---
PTSD-RELATED TRAINING EVENTS
CDP offers numerous events throughout the year to help train providers to assess for and treat PTSD. In June and July we will be offering even more opportunities for providers to increase their knowledge and skills. 
To register or for more details on any of these events, click on the links below!
8-9 June 2022: Online Cognitive Processing Therapy (CPT) Training via Zoom (currently at capacity)
21 June 2021 12:00 - 1:30 p.m. ET: Treating PTSD and Co-Occurring Substance Use Disorders using Prolonged Exposure
27-28 June 2022: Online Cognitive Processing Therapy (CPT) Training via Zoom (for Tri-service providers)
18-19 July 2022: Online Prolonged Exposure Therapy (PE) Training via Zoom (for Tri-service providers)
26-27 July 2022: Online Training on Assessment of PTSD and Suicide Risk Management in Veterans via Zoom
Additionally, on 15 June 2022, the National Center for PTSD will be offering a live webinar on Ethical Considerations in Shared Decision-Making for PTSD Treatment by Lisa Cuccurullo, Ph.D.
---
INFOGRAPHICS
| | | | |
| --- | --- | --- | --- |
| Anger and Aggression | Myths About Trauma-Focused Treatment | PTSD and Nightmares | VA-DoD Guidelines |
| | | | |
---
BLOG ENTRIES
This month's Staff Perspective blog entries will include entries on PTSD and its treatment. 
In addition, we also have numerous existing blog entries on the subject, including:
---
PTSD RESOURCES
Below is a curated list of recordings from various PTSD-related webinars that the CDP has offered in the past. For a complete list, you can click here to visit our webinar archive.
---
PODCAST EPISODES
CDP's bi-weekly podcast, Practical for Your Practice, features stories, ideas, support and actionable intel to empower providers to keep working toward implementing EBPs with fidelity and effectiveness.
Listen to Episode 03: "This IS the Track - How Talking About Afghanistan Doesn't Have to Derail an EBP"
Guests: Drs. Kelly Chrestman and Sonya Norman
The recent events in Afghanistan have left many military-connected clients (and providers!) reeling, creating a sense of anxiety in clinics about how to best provide support. In this episode, we bring lead EBP consultants from VA and DoD together to talk about the importance of examining our own reactions, making room for our client's grief, anger and other emotions and how to be fully present in the room as our clients struggle to (re)create balance and meaning. We explore how validation serves as the essential substrate across EBP's, as well as ways providers can support clients to examine values and move with intention through these historical events. Don't miss this special episode as your colleagues discuss "doom scrolling," the "EBP police" and much more!
Listen to Episode 02: "Flexing New Muscles When Doing Prolonged Exposure Therapy (and Assigning in vivo Exercises) Amidst a Pandemic"
Guest: Dr. Kelly Chrestman
Masks, social distancing and hand sanitizer, oh my! This week we are joined by Dr. Kelly Chrestman, one of CDP's Prolonged Exposure mavens, to talk about practical tips for doing in vivo work during the pandemic. We dig into how assigning in vivo items may or may not have changed in the midst of the pandemic and creative ways to maintain momentum. Not doing PE? There is still actionable intel for you on how to collaborate with clients to get them engaged in meaningful activities despite all the barriers of COVID. This is the time to flex new muscles and think outside the box with us as we talk about doing PE (via telehealth) during the pandemic.