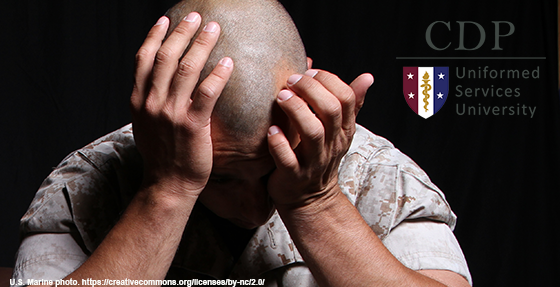 June is PTSD Awareness Month. While this topic is important at the Center for Deployment Psychology year-round, we will be providing special emphasis on the subject of PTSD during June.
Throughout the month, CDP is hosting numerous events and posting several features and tools regarding the assessment and treatment of PTSD, including blogs, webinars, training events, and PTSD-specific infographics.
Click on the icons below or scroll down to find resources to expand your knowledge and skills to treat PTSD effectively, serving those who have served.
---
PTSD-RELATED TRAINING EVENTS
CDP offers numerous events throughout the year to help train providers to assess for and treat PTSD. In June, we will be offering even more opportunies for providers to increase their knowledge and skills. As part of CDP's partnership with the National Center for PTSD, 6-8 June we will be in Helena, MT to offer a free training on Prolonged Exposure to help make evidence-based treatments for PTSD more available to Veterans in rural areas. In addition to our two-day online EBP on Prolonged Exposure (PE) Therapy training, we will have a free, weekly series of 90-minute webinars on a variety of topics associated with PTSD. Additionally, there will be a four-hour workshop designed to instruct providers on a method for screening, assessment, and treatment outcome monitoring of PTSD centered on the use of the PTSD Checklist for DSM-5 (PCL5). At the end of the month, we will also be offering a training on "Serving Student Veterans on Campus". While this training is not specifically on PTSD, it will be discussed and covered in the event's curriculum.
To register or for more details on any of these events, click on the links below!
5 June: CDP Presents: Beyond PTSD - Grief-informed Treatment After Trauma Online via Zoom - Watch the recording here
6 June: Assessment and Treatment of PTSD Using Prolonged Expsure Therapy, Helena MT
11 June: Assessing Military Clients for Trauma and Post-Traumatic Stress Disorder Online via Zoom
12 June: CDP Presents: Trauma-Informed Intimate Partner Violence Treatment in Military and Veteran Populations - Watch the recording here
19 June: CDP Presents: Helping Patients with PTSD-Related Nightmares Online via Zoom - Recording coming soon!
20-21 June: Online Prolonged Exposure (PE) Training Online via Second Life
25 June: Serving Student Veterans on Campus Online via Zoom
26 June: CDP Presents: Understanding and Managing Anger and Aggression in PTSD Online via Zoom - Recording coming soon!
---
INFOGRAPHICS
| | | | |
| --- | --- | --- | --- |
| Anger and Aggression | Myths About Trauma-Focused Treatment | PTSD and Nightmares | VA-DoD Guidelines |
| | | | |
---
BLOG ENTRIES
In addition to the numerous existing blog entries we've got on the subject, this month will include four new blogs on PTSD.
---
PTSD RESOURCES
Below is a curated list of recordings from various PTSD-related webinars that the CDP has offered in the past.